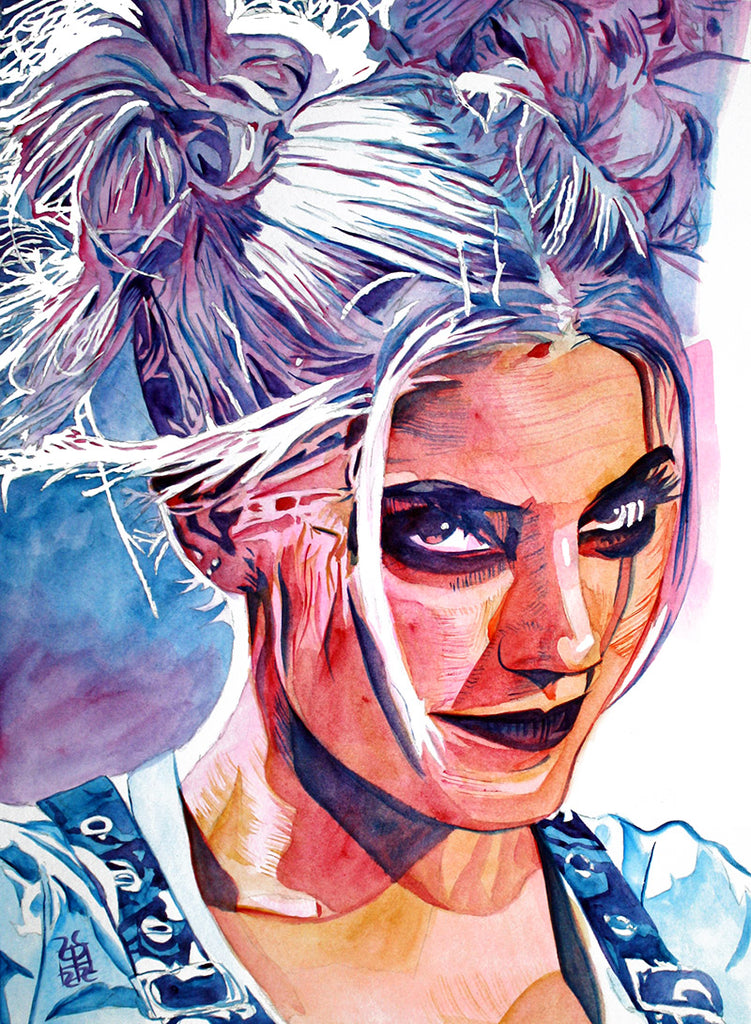 Alexa Bliss: Paint or Play

Watercolor on 11" x 15" watercolor paper
Artwork by Rob Schamberger, painted in 2022
For this new Alexa Bliss painting I wanted to continue to experiment with my approach to watercolors. I hadn't used masking fluid in decades, mostly because it beats the heck out of a brush but I saw that you can use metal drafting tools to apply it and that got my brain going. So I went to the art supply store and they turned me on to a fineline precision applicator, essentially a needle that feeds the fluid out like a pen allowing fine details.

I used it for the white spaces in the piece, especially the stray hairs, applying it before painting. Once it dries, it's latex and repels the watercolor. This allows me to paint freely knowing what's in those areas will remain the white of the paper, and also keeps any sort of halo effect from emerging. It's pretty dang cool.

I then used a lot of more impressionistic color choices instead of straight on representational choices to give it a more painterly feel because, you know, it's a painting. I also used the filbert grainer brush liberally to get the color hatching effect which I've come to love. Once the painting was done, I then just pulled the latex mask up to reveal those gorgeous highlights. I feel like I leveled up on this and am excited to push it even further on future paintings.