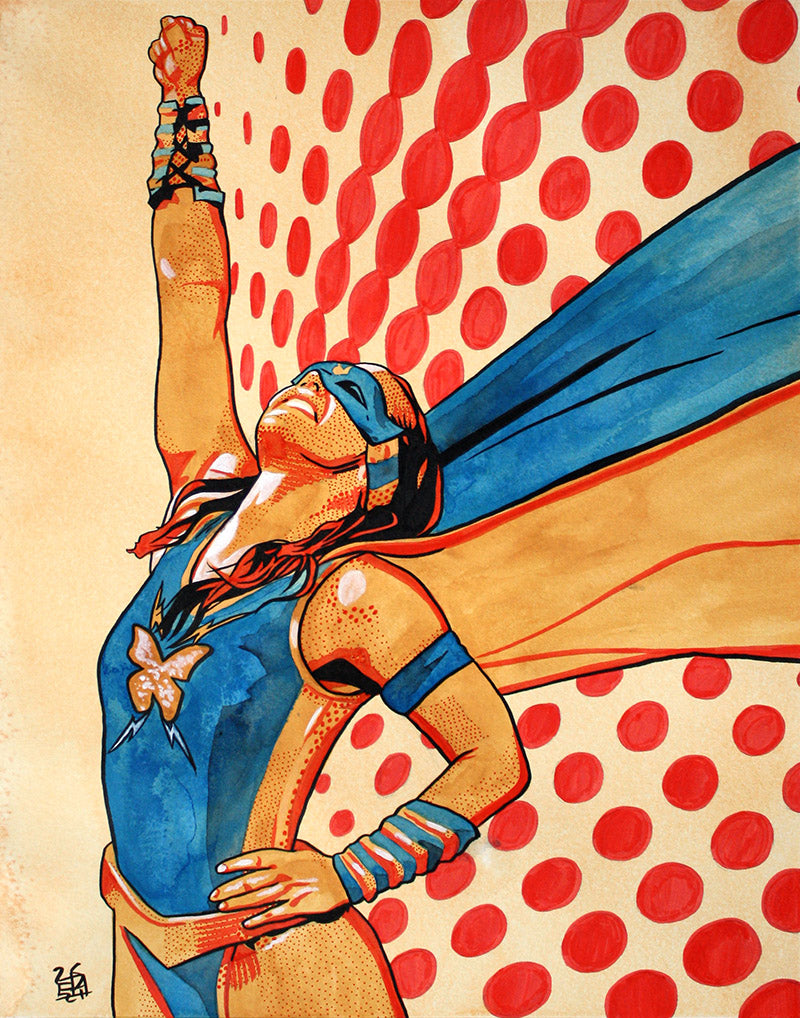 Nikki Cross aka Nikki A.S.H.

Ink, acrylic and watercolor on 11" x 14" bristol board
Click here to get the print now!
The moment Nikki Cross, sorry, Nikki A.S.H. rebranded herself as a superhero I knew not just that I had to do a new piece of her, but also EXACTLY how I wanted to approach it. Obviously, being a lifelong superhero fan, especially when they're in comic books, I'm steeped in the visual language of the genre and how I can make it work with my approach. I wanted it retro yet modern and all true to my own art.

I brought in 'the dots' that were prevalent in pre-digital printing, used to create colors with the CMYK process. But instead of just doing them straight up, I instead first used them all blown up as a design element for the background and then did a patterned pointillism with red for the figure. The limited color palette and use of black outline really balances out the halftone pattern, and then is all mixed in with a more painted texture with the blue. Then I used a touch of white acrylic paint for highlights to bring it all together. I'm also happy with the accidental 'weathered' look of the background to make the entire piece look like an aged comic book page.

I like to think of this as how Nikki sees herself, and what she's working towards fully being in real life.