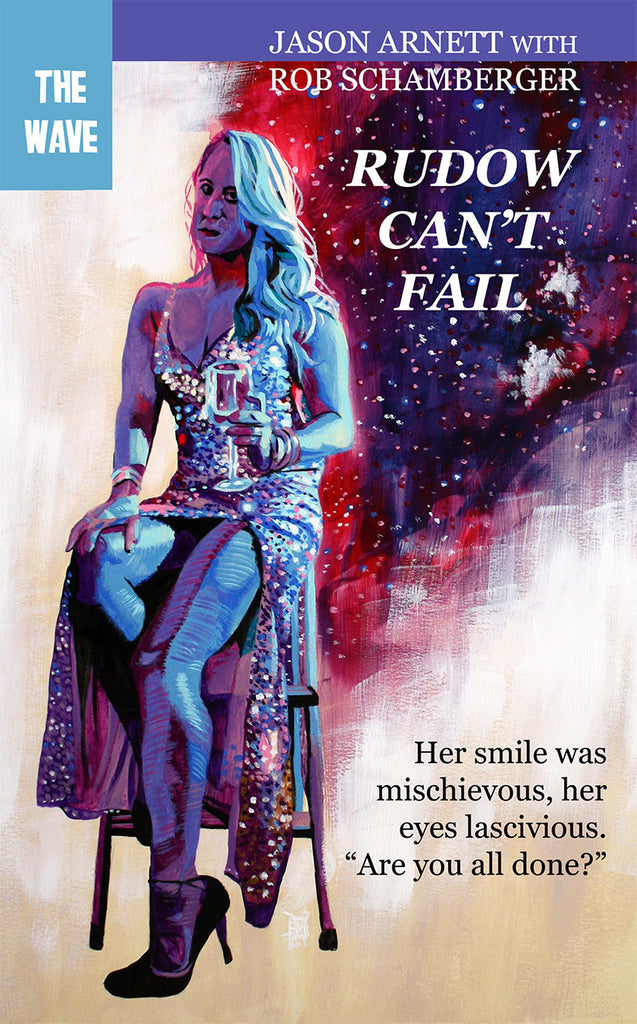 I'm incredibly excited to announce the debut of 'Rudow Can't Fail', the novella Jason Arnett and I have been developing for a couple years now, is coming next month! Here's the cover reveal to help you, I don't know, judge it ahead of time.
The back cover reads:
The husband came home.
Rudow and Maggie are Marsies, native to the aging corporate colony, though she's married to a company executive. As their red-hot affair heats up, he realizes there's more to her than he thought. A lot more.
Earth has sunset support for the colony, but fixits like Rudow are doing their best to keep things running, like that day in Maggie's penthouse suite at the center. The Company wants everyone to stay so they can exploit the minerals of Mars, but Earth wants all of them to take a trip out of the solar system.
As the decision to stay or go looms, Rudow makes a play for Maggie's love. 
By committing murder.
The elevator pitch for the book is that it's a femme fatale noir story set in the near future on Mars. It gets into class structures, sociology, and the desperate things one will do to get what they want. It also introduces a lot of concepts that Jason and I will explore and expand upon in the world of The Wave with upcoming books.
Jason did the heavy lifting on the writing of this, based on ideas we developed together. He turned those notions into a captivating story that will keep you flipping the pages to find out what happens next.
For the cover painting, I wanted to really evoke the aura of classic crime novel covers by the likes of Robert McGinnis. My good friend Cherryh Cansler (who funnily enough was named after noted sci-fi writer CJ Cherryh) posed for the painting and absolutely killed it, as a femme fatale does I suppose. It allowed me to do things visually that I don't get to with my usual work.
Here's the original acrylic painting without the trade design:
The book will be available online next month through Amazon. Jason and I will both be at Planet Comicon August 20-22 with the book for its public debut and I'll have a limited number of signed copies available through here as well.
And then? The next book, of course! We're mapping out the future of humanity with The Wave and it's a big map.