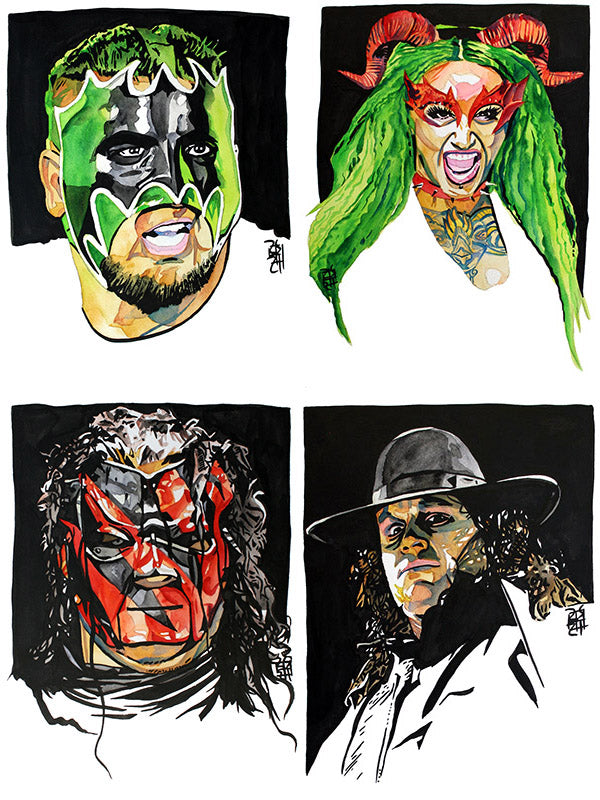 Select Series Wave Twenty-Five: Halloween 2021 Edition! 
Ink and watercolor on four 9" X 12" pieces of watercolor paper
Artwork by Rob Schamberger
Is there anything more fun than doing a Halloween-themed set of paintings? I don't think so. The hardest part is picking who's going to be a part of the lineup! 

I started off with The Hurricane, less of a spooky character and more that it was fun to do a classic WWE superhero. Then, I went with one of Shotzi's looks from the 2020 Halloween Havoc, because with the red horns and the green hair I guess this doubles as a Christmas piece, color-wise! Next up is the first official Kane entry to the Select Series. I say 'official' because there has been a painting of a certain Dr Isaac Yankem, DDS and a painting of 100% for-sure the REAL Diesel, but I don't know why I bring those up when talking about Kane.

No reason.

And of course, we round it out with the OG spooky WWE persona, the Dead Man himself The Undertaker! There was a Mean Mark painting before, but again I don't know why I'm talking about that because this is definitely The Undertaker's first Select Series painting!