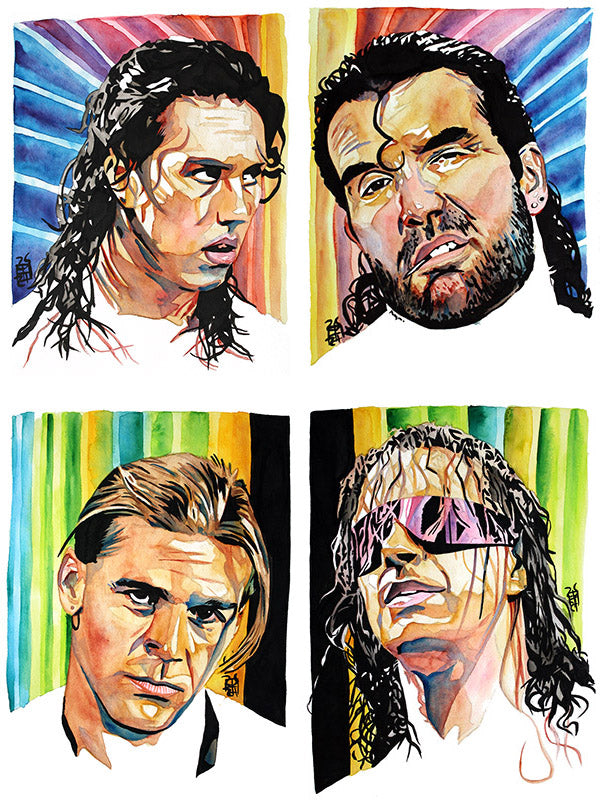 Select Series Wave Twenty-One: New Generation Edition! 
Ink and watercolor on watercolor paper
Artwork by Rob Schamberger
Click here to get the print set now!
It's funny, decades later, to think of X-Pac, Razor Ramon, Shawn Michaels and Bret Hart as a New Generation but in the early to mid 90's they were exactly that. The major stars of the 80's were moving aside as a whole new energy and excitement came along with these four competitors and their entire generation, changing the game forever.

It's an interesting time of transition from how things were with the big 80's to how things were about to be in the Attitude Era, but for a time the wrestlers who were about to be the major superstars of the next decade were still learning how to be those top stars.

I thought it'd be fun to do a Select Series collection of some of these faces, from X-Pac aka the 1-2-3 Kid who debuted during the New Generation, to Razor Ramon who reinvented himself in a major way, to Shawn Michaels now hungry to be the top star and of course THE top star in Bret Hart. Also having some fun with the shared background between all four of them, when arranged as above it makes the neon entrance from that time! 
Here's all of the Select Series paintings so far: