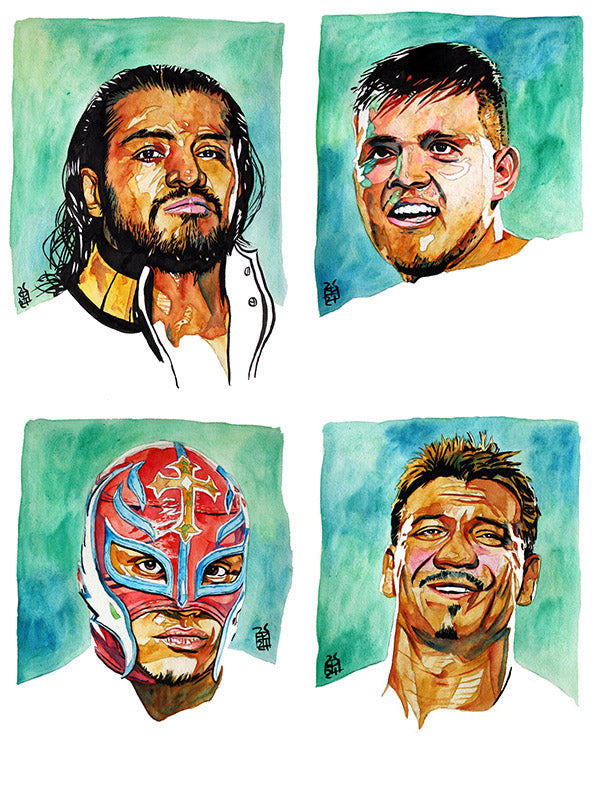 Select Series Wave Nineteen: Odelay Edition! 
Ink and watercolor on watercolor paper
Artwork by Rob Schamberger
Click here to get the print sets now!
The Select Series Odelay Wave is here! I wanted to celebrate some Latin excellence this time around. First up is Santos Escobar, who I had painted before in the series but under a mask (he was under the mask, I didn't make the painting while masked. At least I don't think so.) and wanted to do a new painting of him unmasked. It's crazy that a man that good looking was under a mask, right?

Next up is my first-ever painting of Dominick Mysterio as well as a new painting of his father(?) Rey Mysterio. They Rey one turned out pretty great, I think. You're not going to see me saying that about my own work too often, but this one turned out rad so I'm going to make a point of saying so.

Rounding out the wave is Eddie Guerrero who we're pretty sure wasn't Dominick's father. This is also his second entry in the Select Series, this time from when he was proving night after night that he was one of, if not THE best professional wrestler in the world at that point in time. If he's not in your conversation for the greatest wrestlers of all time, your conversation is wack, homes. 

The blue-green backgrounds on all of these really framed them nicely, I feel. Gives them a good feeling.