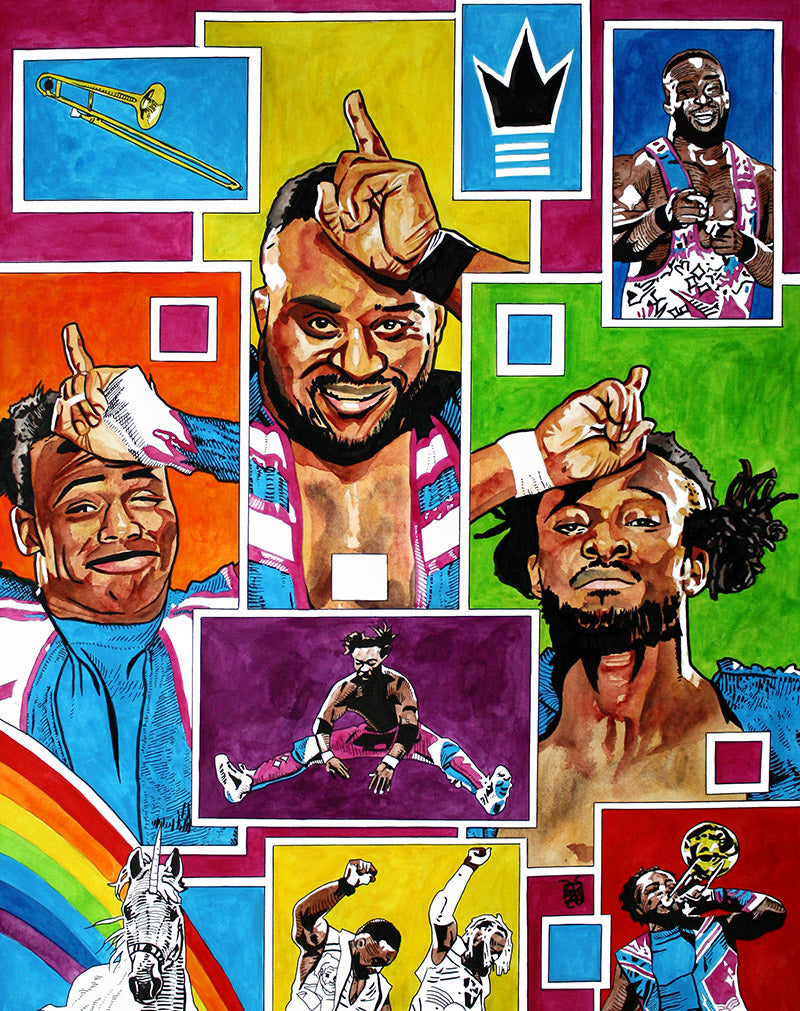 The New Day
Ink, acrylic and watercolor on bristol board
Artwork by Rob Schamberger
Printed on 11" x 14" 130 pound uncoated cover stock, perfect for framing!
This New Day piece is me playing with a mix of comic book illustration techniques with the thinking behind a mosaic to tell an overarching story of the subject.

That sounds fancy, doesn't it?

With this I wanted to balance the personalities of Xavier Woods, Big E and Kofi Kingston, who they really are, with the more fantastic elements of the act. So there's the trombone, the unicorn, the rainbow, but there's also E and Kofi's moment of solidarity with the Black Live Matter movement. There's also the 'Basquiat crown' that they had on their Kofimania gear at Wrestlemania 35, but I added three lines under it symbolizing their equality with one another and that Kofi winning the big title was ALL of them winning.

I took that a step further and each of them doing the 'unicorn horn' gesture also forms the three points of the crown. Each of them makes the whole of the New Day.

Early on when they first formed New Day, Kofi signed for me and added 'P.O.P' after his signature, for 'Power of Positivity'. I asked him about it and he said it's not just part of the gimmick but something he truly believes in. With the world being what it is right now, I think spending my time to make a painting like this is me doing the exact right thing for myself.

I hope that looking at it gives you some positivity as well, a rainbow in the dark, a statement that we're all in this together and we all have the power to raise each other up.
This print is made on demand and may take up to a week to be produced before shipping.