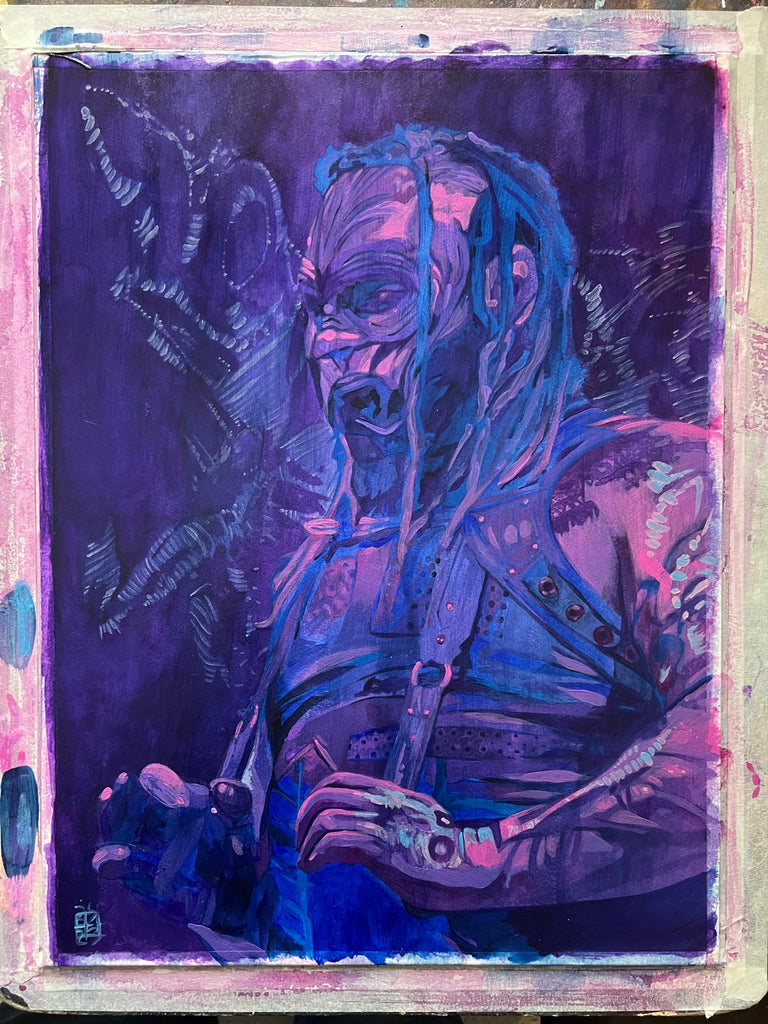 Bray Wyatt: Enter Night
Acrylic on 15" x 20" Illustration Board

Artwork by Rob Schamberger, painted in 2023
I haven't struggled with a painting in a long time as much as I did with this Bray Wyatt piece. Done with acrylics, I had to learn a new technique to get it to look the way I wanted it to. Inspired by the blacklight match he had at the Royal Rumble, I found that quickly all of my colors were too vibrant and basic to get across that look. About halfway through, I realized what I was doing would end up just being the underpainting and that I'd do a glaze of dark blue over it to unify the colors as well as to subdue their vibrancy.
Instead of watering down the acrylic, I bought some liquid glazing medium to mix in with my Prussian blue paint and used a flat brush to coat the painting and I was immediately stunned by the results. When watering down acrylic, the pigment doesn't always evenly mix through the water, but it does with the liquid glazing medium and it creates a more even coat.
With that done, I then mixed in the medium with a few other colors to accentuate the magenta as well as the phosphorescent look of the paint on his arm and in the background. The result is one of the most dang terrifying paintings I've ever made. I apologize ahead of time if it haunts you after seeing it.