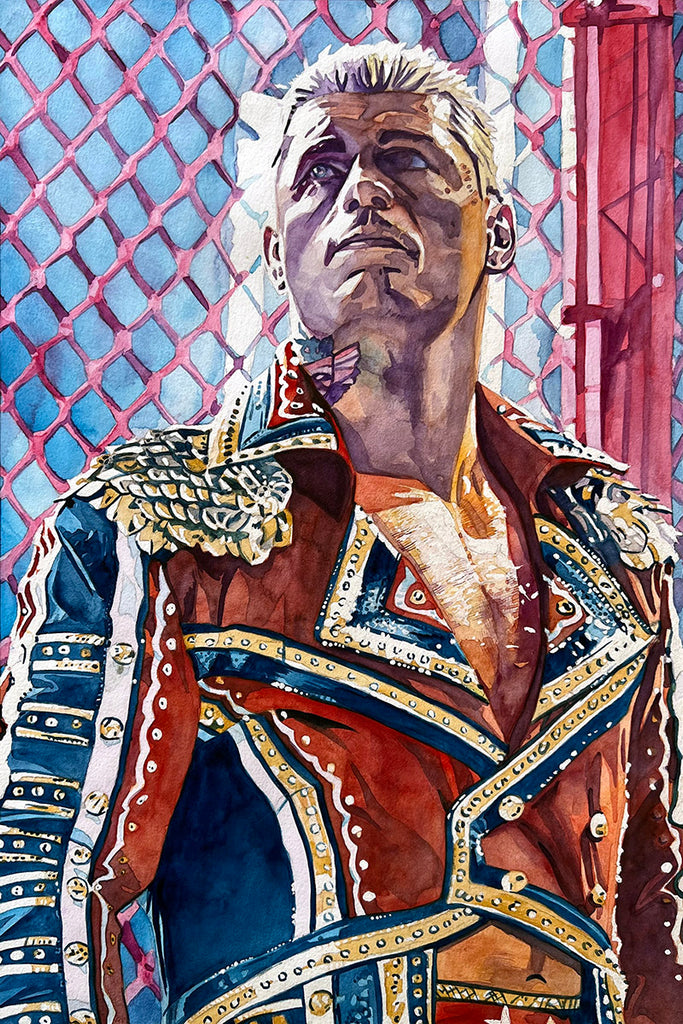 Cody Rhodes: Broken Wing

Watercolor on Watercolor Paper

Artwork by Rob Schamberger
Printed on 11" x 14" 130 pound uncoated cover stock, perfect for framing!
With Cody Rhodes returning at the 2023 Royal Rumble I knew the time was right to make a new painting of him. I chose to do the moment he walked into Hell in a Cell, his ring jacket still covering up the heinous bruise from his pectoral injury, but the look is there in his eyes for what he knows is about to happen. It's one of the most undeniably courageous matches in WWE history in my opinion, Cody facing off against Seth Rollins with pretty much only one functional arm and still coming out of it victorious. It's the stuff of legends, and that's just the sort of thing I paint.
This is my first painting after slowing down a bit, taking a couple weeks to make a new piece instead of less than one. Because of that, I'm getting more ambitious about the details in my work and between Cody's jacket and the chain link fencing surrounding the Cell this was the perfect painting to challenge myself with. This is all done with watercolor, a ton of perseverance and a lifetime of developing my skill and I hope it serves as a harbinger of what you can expect from me going forward!
This print is made on demand and may take up to a week to be produced before shipping.