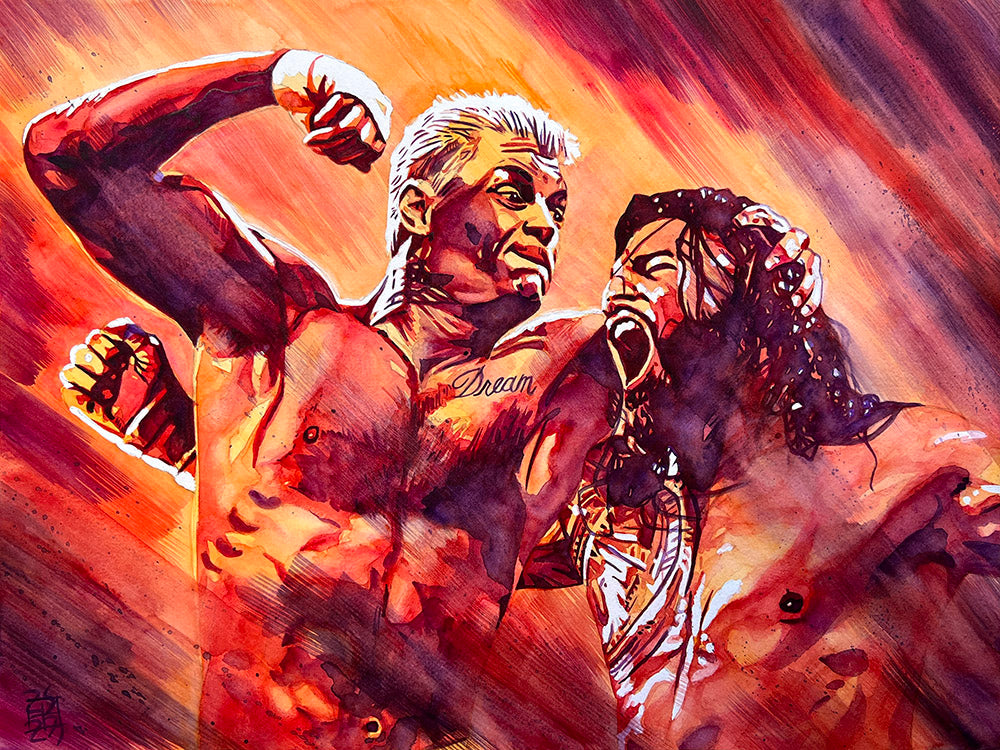 Cody Rhodes vs Roman Reigns: Collision
Watercolor on watercolor paper

Artwork by Rob Schamberger
Printed on 14" x 11" 130 pound uncoated cover stock, perfect for framing!
I made this painting of Cody Rhodes versus Roman Reigns to highlight the feeling of these two top superstars colliding at WrestleMania 39! I used a fiery color palette to give that explosive feel of these two finally coming to blows and then kept a diagonal set of brushstrokes throughout the composition to take it to the next level.
This painting was obviously made before the match, at the time I'm writing this I don't know the outcome, but I view Cody as the biggest threat Roman has faced so far. I use the 'Brock Lesnar on a Tractor' scale for opponents: Roman overcame Brock on a tractor, so it needs to be someone even tougher. And Cody? Cody clean-swept Seth Rollins in three matches, someone Roman has no clean victories over, and did the last one with a torn pectoral muscle inside of a Hell in a Cell match. That passes the Brock on a Tractor Test for me.
This print is made on demand and may take up to a week to be produced before shipping.