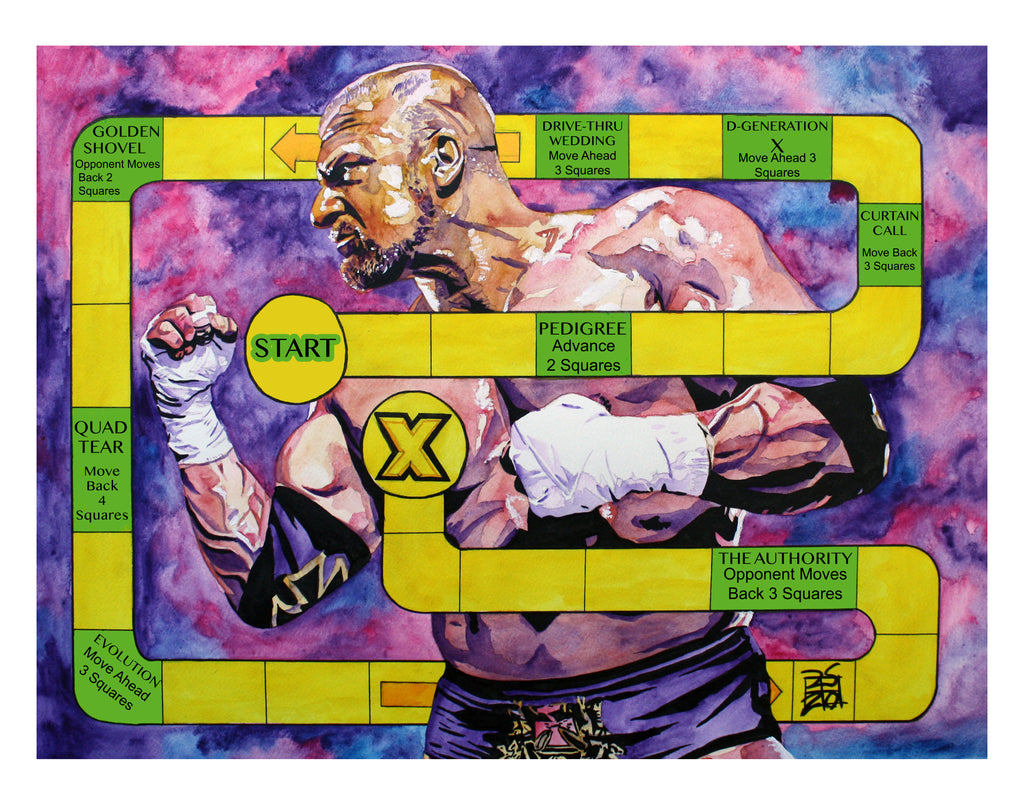 Triple H
Ink and watercolor on watercolor paper
Artwork by Rob Schamberger
Printed on 14" x 11" 130 pound uncoated cover stock, perfect for framing!
An art print that doubles as a fully-playable board game!

Sometimes an idea is so obvious that you don't see it for years and when you finally come onto it, you can only say, "Duh, of course!" That's the case with this one. Once the idea was in my head it was all that I could think about. 

The game portion is what folks will pay the most attention to. Also as a bonus: It's a totally playable game! WWE staff may or may not have been playing it in the office, even. The squares are all from big moments and era's in Triple H's career that either move the player forward or back. I'm particularly happy with what happens if you land on The Golden Shovel.
The rest of the painting has some significance to it, too. The reference I used for his figure was from a shoot that WWE did for me for my WrestleMania 32 Axxess live painting. I've held onto that shoot, which I don't think was ever made public, and have used it here and there since. Job perk!

The background is inspired by the skies that Frank Frazetta would have in the backgrounds of a lot of his paintings, as Frazetta is a huge influence on Trips' WrestleMania entrances for the last several years. Everything was chosen with purpose for the whole composition, even little things like the background that maybe only I would be conscious of but adds to the mood and feeling overall.

Enough talk: TIME TO PLAY THE GAME!
This print is made on demand and may take up to a week to be produced before shipping.