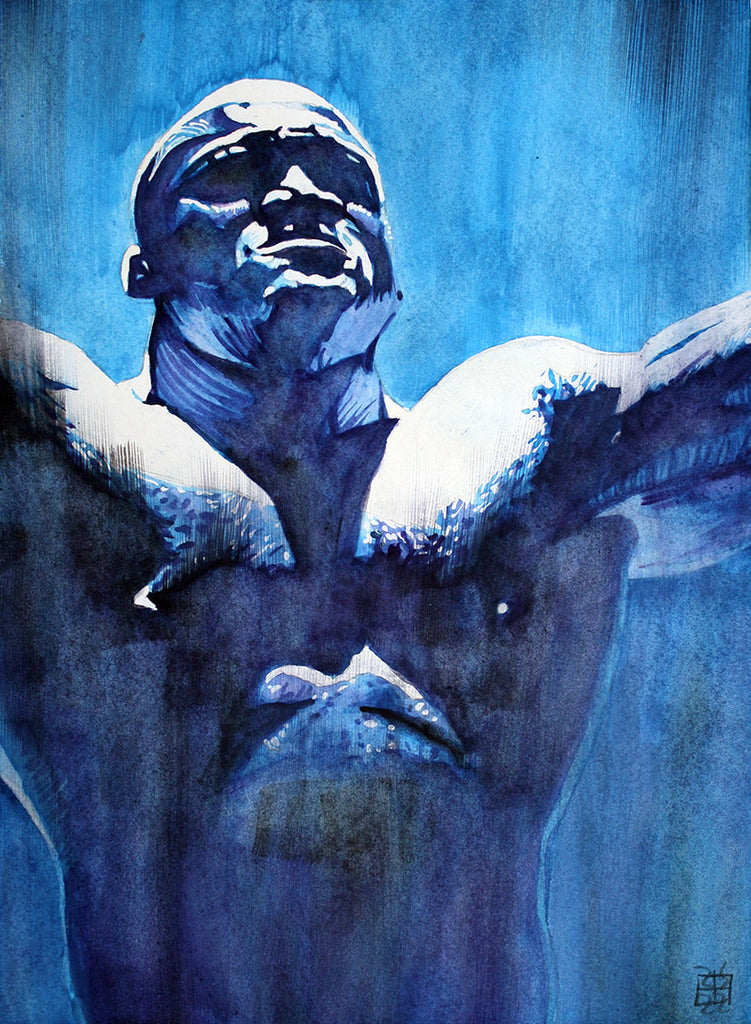 Bobby Lashley: Terrifying Physique

Watercolor on paper
Artwork by Rob Schamberger
Printed on 11" x 14" 130 pound uncoated cover stock, perfect for framing!
Bobby Lashley's entrance is one of my favorite things in WWE at the moment. The drums, the stark lighting, all building tension as he displays his terrifying physique until the explosion that brings up the lights and his monster movie-inspired theme music kicks in…it gets me PUMPED every time.
With this painting, I'm celebrating the early part of that entrance where the gladiatorial drums are pounding and the overhead spotlight hits him, highlighting the otherworldly shape he's in. I did it in a monochromatic blue to match his entrance, but also because I viewed that as an interesting challenge visually and kept it fascinating for myself by using vertical brush strokes to really sell the lighting.
At a show in Des Moines once Bobby went through security before me. The guard asked me if I was staff or a wrestler. "Staff…Wait, you didn't just ask HIM that, did you?"
"I'm asking everyone. I don't want to assume!" they laughed.
"Wait. You think THAT GUY is anything other than a wrestler? You think there's people who look like him just walking around?" We had a good laugh, and Bobby overheard me and laughed as well.
Since then I always tell him he should work out more.
This print is made on demand and may take up to a week to be produced before shipping.