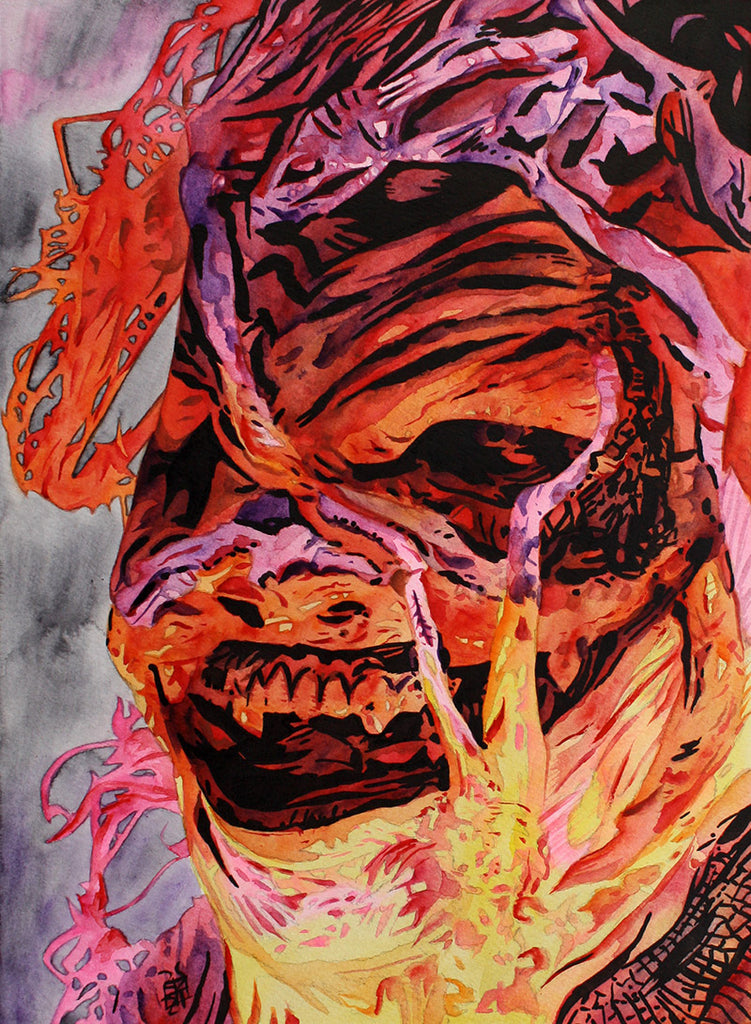 The Fiend Bray Wyatt

Ink and watercolor on watercolor paper
Artwork by Rob Schamberger
Printed on 11" x 14" 130 pound uncoated cover stock, perfect for framing!
When 'The Fiend' Bray Wyatt returned with a melted face after being burnt alive (yo, that's a sentence I get to write) I knew I needed to of course get that represented in a painting. Little did I know The Fiend is some sort of Time Lord and regenerated going into his WrestleMania match, but I think this painting came out rad enough to be a document of its time.

I'm enjoying this approach to The Fiend, that he's a horror movie monster akin to Jason Vorhees or Michael Myers. Sure, the 'heroes' like Laurie Strode win by the end of the movie, but let's be honest we're all there to see the monster. Jason coming out of Crystal Lake at the end of the movie (SPOILER!) is what we all talk about, right?

The Fiend may lose some matches, but BAH GAHD we're all fascinated to see what comes next and there's no denying that all of his opponents have to become their true selves to beat him, leaving them forever changed from the experience. And as we're seeing with Alexa Bliss, coming into The Fiend's orbit in any way, shape or form can leave one irrevocably haunted.
This print is made on demand and may take up to a week to be produced before shipping.