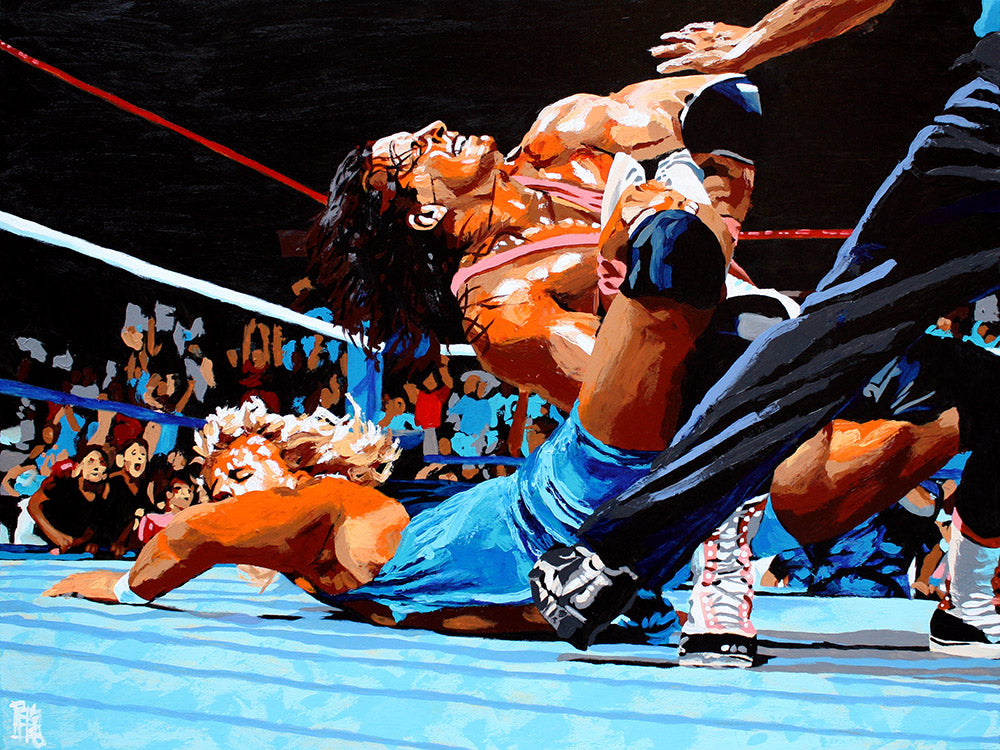 Bret Hart vs Mr Perfect

Acrylic on canvas
Artwork by Rob Schamberger
Printed on 11" x 14" 130 pound uncoated cover stock, perfect for framing.
When I was 7 I got my first comic book and knew that I wanted to be an artist, that I wanted to make what I saw in that comic. Here's a letter to that kid, about what it was like to make the above painting:

Hey Rob,

So you just got that copy of The Incredible Hulk #348 and believe it or not, it's one of the defining moments of your life. When you made that decision to become an artist, it set you on a journey that will last for decades and take you all over, get you on TV and even put your name on the front of action figures. Wild, right?

So that painting up there? You're going to paint it in a museum. Even better than that? The museum is going to have over a hundred other paintings you made on display and you're going to spend that week with World Champion wrestlers (you'll get into wrestling eleven years from now), the families of the subjects you're painting, and people from around the world, some who came just to see the art.

And while you're working on it, a guy will come up to you and tell you that his eight year-old daughter is a fan and dreams of being an artist some day. When that happens, you need to do a video message for her to let her know to chase her dreams. Your life is great and it'll be rad to see someone else grow up and have as much joy as you do.

When you get home, you'll get a text from Brandon (yeah, you're still friends. I'll explain what a text is later) that his son (dude, he's got kids!) saw your name on the front of one of those action figures and was proud that he knew you.

You're going to do cool things. People around you won't understand it, even after you succeed and that's okay. Because some day there's going to be kids as old as you are that might get on their journeys when they see your art, the same way that issue of The Incredible Hulk set you on yours.

Yer pal,

Rob
This print is made on demand and may take up to a week to be produced before shipping.