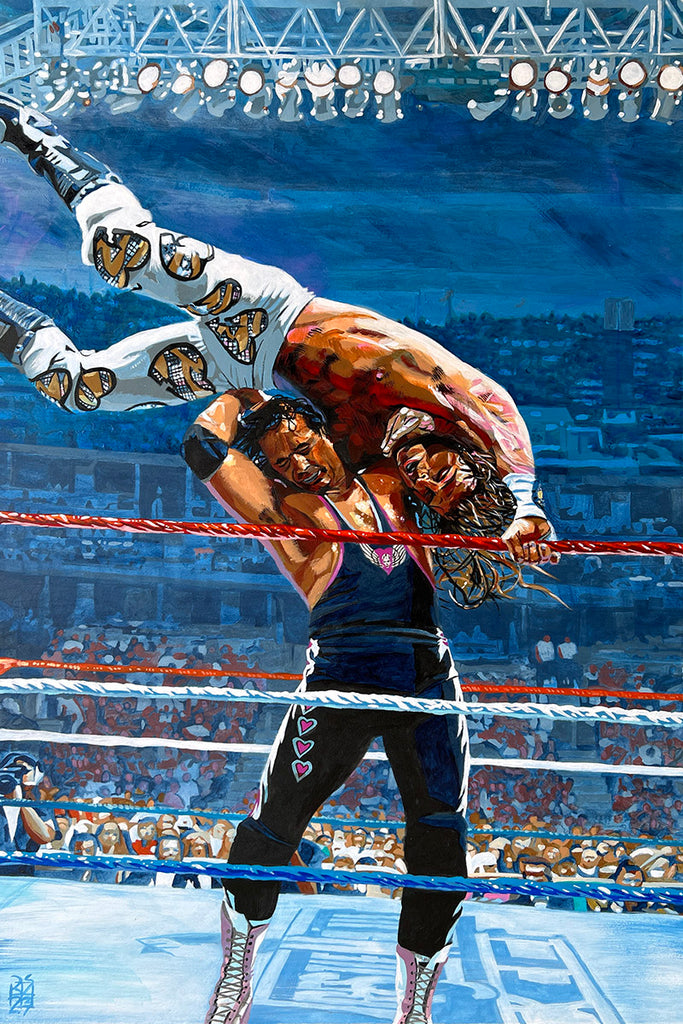 Bret Hart vs Shawn Michaels: Wrestling Landscape
Acrylic on Illustration Board
Artwork by Rob Schamberger
Printed on 11" x 14" 130 pound uncoated cover stock, perfect for framing!
My latest Wrestling Landscape painting is all about the epic Iron Man Match between Bret Hart and Shawn Michaels at WrestleMania XII! I spent about three months working on this and I couldn't be prouder of the results.
I took a very deliberate pace with this (kinda like the match itself, now that I think about it!) and put in the work needed for each portion, regardless of the time it took. The back wall took a day, the crowd took several days, heck, the hearts on Shawn's gear took three hours alone. I just worked on each part for as long as they needed to get it to look the way I wanted it to. I'm especially happy with the depth the piece has and how much Bret and Shawn pop from the background.
It's the most technically proficient acrylic painting I've made and it pushed me far beyond my limits, forcing me to learn new techniques as well as making me slow down and enjoy the creation of it all. I don't know if any of that comes through to the viewer and it's quite okay if it doesn't but I do hope it gives you a moment of happiness to see it.
This print is made on demand and may take up to a week to be produced before shipping.