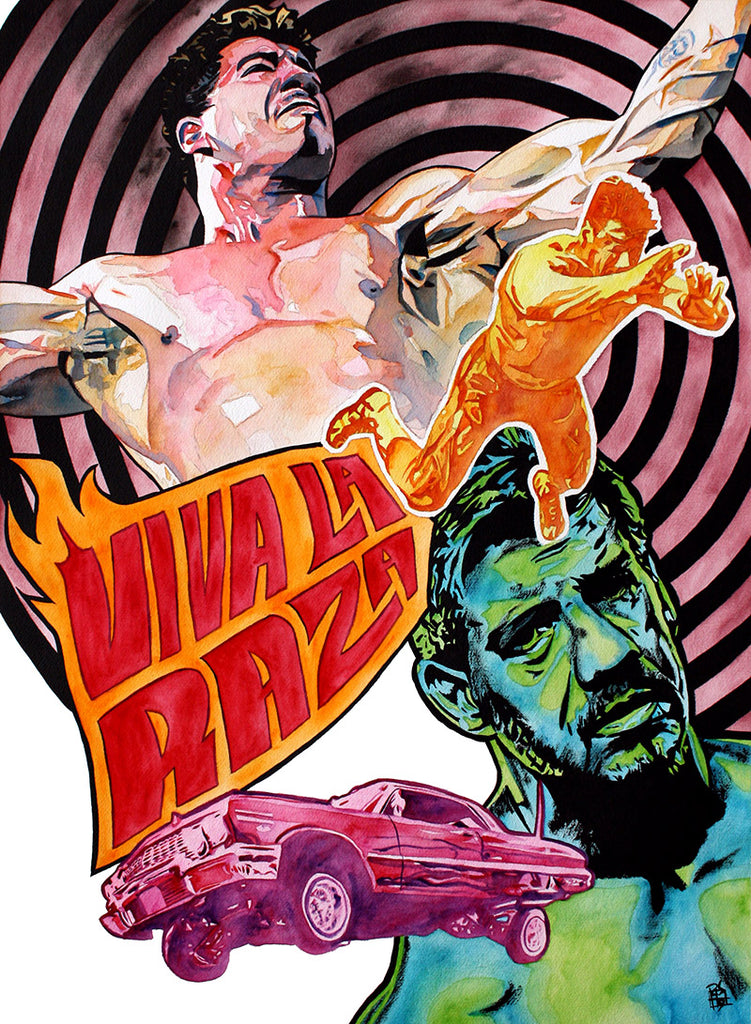 Eddie Guerrero
Ink and watercolor on paper
Artwork by Rob Schamberger
Printed on 11" x 14" 130 pound uncoated cover stock, perfect for framing!
A few weeks ago I was looking at some 1970's movie posters thinking, "It'd be cool to see one of these featuring Eddie Guerrero." Then I remembered I can make that happen. I have the power.

Each of the bits in here either speaks to the feeling of what it was like being a fan of Eddie back then, or overall helps out the composition. The upper left corner figure is Eddie in his post-match celebratory mode, showing off his charisma and overall x-factor. The 'Viva La Raza' verbiage speaks to his crossover appeal, being a massive hit with fans everywhere. The action shot of the frog splash shows his unparalleled athleticism and is done in that color scheme for his 'Latino Heat'. The concentric circles look like they're framing the top left figure but they actually emanate from the frog splash. 

The low rider is there for his entrances using those cars but also illustrates the showmanship he brought to the ring. Finally, the closeup in the bottom right corner is there for his psychology, the mind that wasn't afraid to lie, cheat and steal to win a match, the mind that came up with loosening his boot so that Kurt Angle couldn't apply the ankle lock.

I say it all of the time that I don't want to just portray my subjects in a literal way, but I want to get across what it FEELS like to watch them. I hope that comes through with this painting especially.
This print is made on demand and may take up to a week to be produced before shipping.