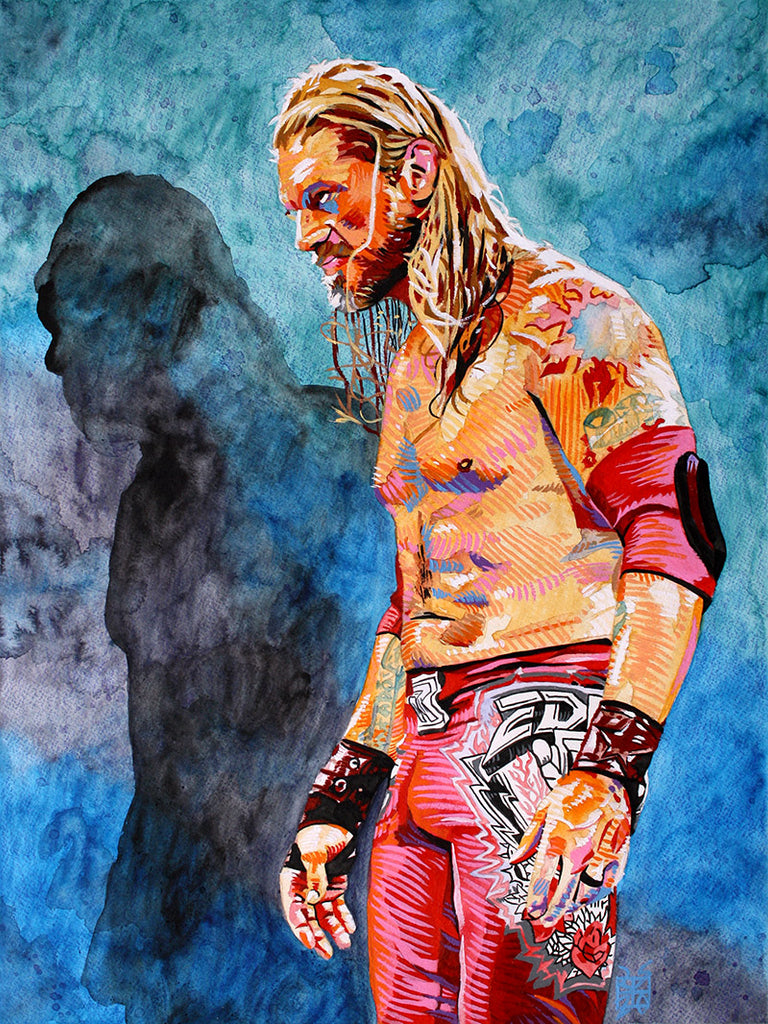 Edge
Ink, colored pencil, acrylic and watercolor on paper
Artwork by Rob Schamberger
Printed on 11" x 14" 130 pound uncoated cover stock, perfect for framing!
On a technical level, this is one of the best paintings I've ever made. Here's why:

At The 2020 Royal Rumble, Edge returned to the ring. Somehow, some way, through the marvels of modern medical and surgical science, Adam 'Edge' Copeland returned to wrestling after what was believed to be a career-ending injury years ago. It's...really tremendous in and of itself.

So of course on Monday I immediately got to work on a new painting of the Rated R Superstar celebrating his return and I felt I wanted to push myself further that I've gone before. If he can come back from what he went through, then I can get out of any comfort zones I may have and push further. I like to think I did that.

The background is a mix of watercolor, dye splattered on with a spray bottle and gently rubbing a colored pencil on its side to pick up the grain of the paper for texture.  For the figure I put down a few layers of watercolor and ink as a primer, and then hatched in more color with acrylic paint. It's a technique popularized by the French artist Moebius in the 80's and this was my first time really leaning into it. I'll be doing it more, I reckon. Picasso had his Blue Period and this is my Hatching Period.

It really feels good painting Edge again, and I'm so happy that I could step things up to try to match the importance of his return.
This print is made on demand and may take up to a week to be produced before shipping.