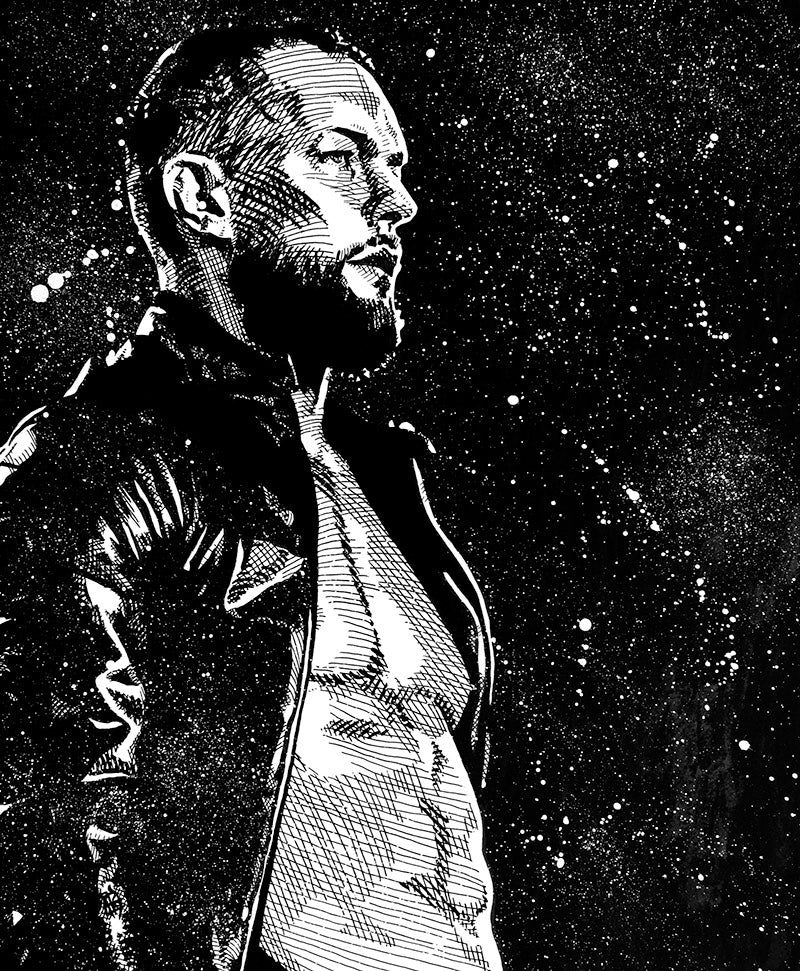 Finn Balor
Ink and acrylic on paper
Artwork by Rob Schamberger
Printed on 11" x 14" 130 pound uncoated cover stock, perfect for framing!
Like Balor's persona, this piece is all about duality. It's simple yet complex. It's a measured and ordered cross-hatching but also a chaotic splattering of paint. It's black and white but full of the perception of grey.

I put the flat blacks in first with ink and brush, then built up layers on the figure with a pen, hatching and hatching. Once that was in, and to create an opposing texture, I dipped a brush in liquid white acrylic paint and splattered it around to create the star pattern. I was inspired by Balor's new tattoo on his hand for the cosmic motif, in case you were wondering. I then spotted in some more flat black on his face and in areas of the jacket to differentiate from the background.

It's probably because of my love of art originating from comic books, and then the ensuing fascination with production art in black and white that's made me such a fan of the challenges of working without color. There's so many ways to cover up or distract from mistakes with color that you don't have without it that forces one to have to get it right. I feel like on this one that's what I did.
This print is made on demand and may take up to a week to be produced before shipping.