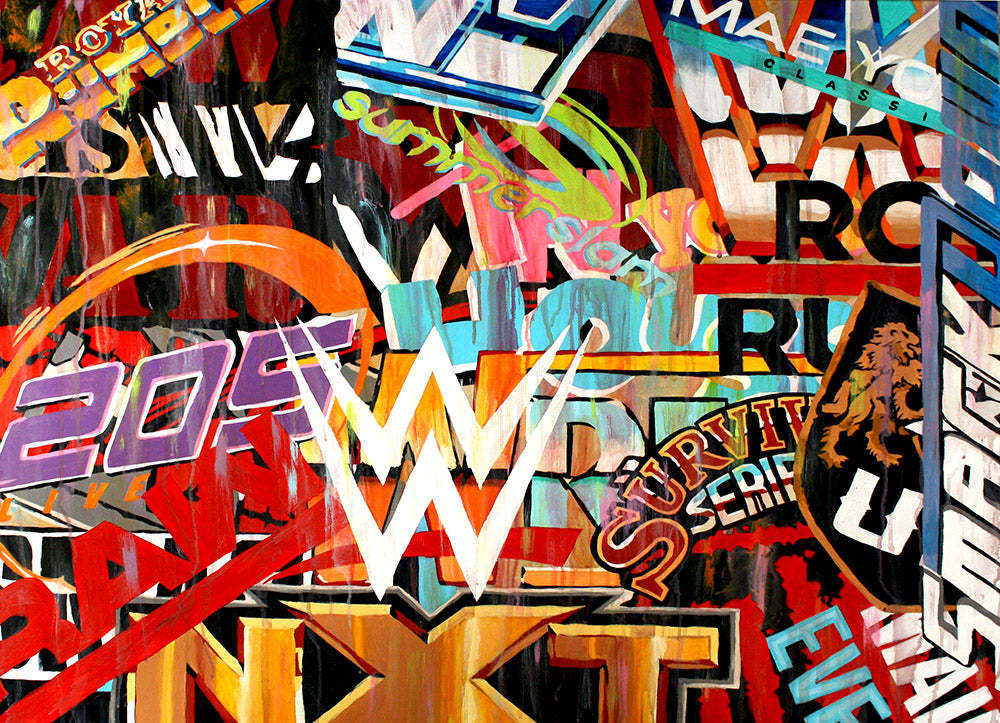 A History of WWE Logos!
Acrylic on canvas
Artwork by Rob Schamberger
Printed on 14" x 11" 130 pound uncoated cover stock, perfect for framing!
I thought it'd be fun to do something different this time around and make a painting celebrating different logos from WWE's history. I've played around with it in the past and felt it'd be interesting to do in-depth. It's not EVERY logo and icon, but a selection of ones from the past through today spotlighting various shows and events.

As much as remembering the matches, the stories, and the wrestlers, our nostalgia is also triggered by the events where those things took place. Stone Cold attacking Mr McMahon on Raw. Lesnar suplexing Big Show through the ring on SmackDown. Steamboat and Savage setting the high water mark at WrestleMania III. The shows are a part of that, and you see their logos at the beginning and in the hype leading up to them. THAT is what I'm helping you to feel with this piece. If you're a wrestling fan and you look at this painting, you're going to have at least one good memory.
This print is made on demand and may take up to a week to be produced before shipping.