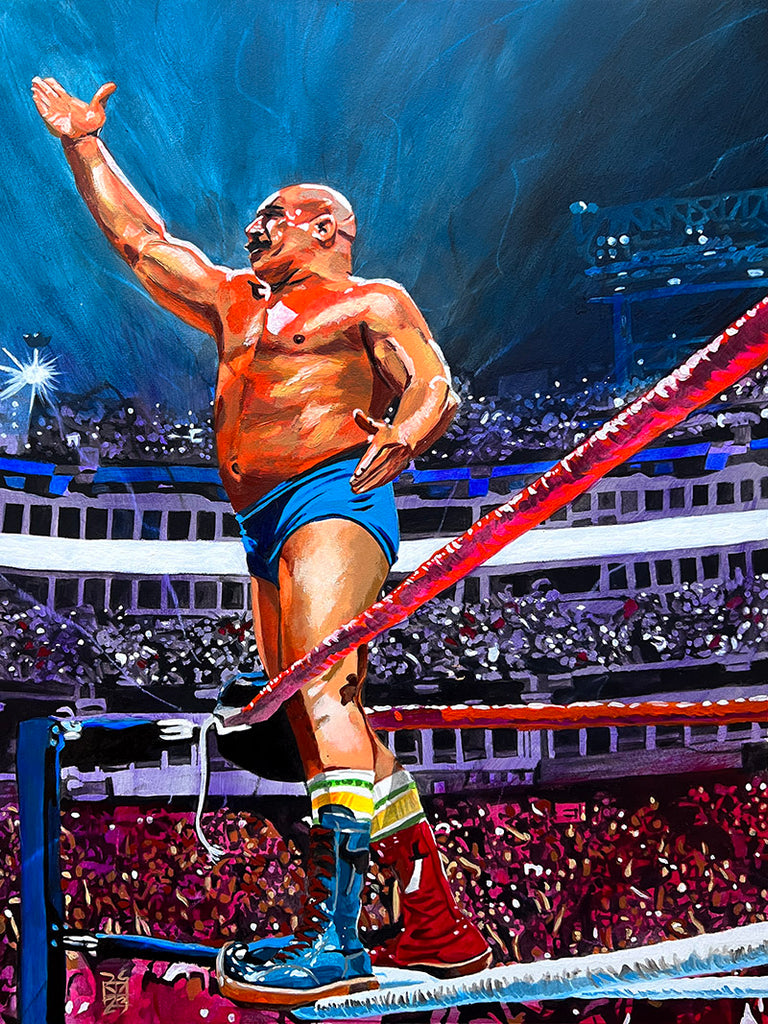 Iron Sheik: The Real
Acrylic on Illustration Board

Artwork by Rob Schamberger
Printed on 11" x 14" 130 pound uncoated cover stock, perfect for framing!
The Iron Sheik is one of my childhood favorite wrestlers, so with this painting I wanted to get across some majesty and spectacle to visualize the way I see him in my mind. My only wrestling toy as a kid was an Iron Sheik LJN. I didn't watch until I was in my late teens, so Sheik was my most direct childhood connection to pro wrestling.
Flash forward to a few years ago and I'm exhibiting at a museum that was honoring him. The staff comes to get me and introduces me to Sheik and his family. They're all standing around the painting I did of him and his family couldn't be more lovely. Sheik's staring at the painting, I swear there was a tear coming out of his eye, and he turns to me. "You…" he says, then turns back to point at the painting, "Made this?"
"Yes sir, it's a pleasure to meet you."
"You…" he says, pointing at me with a serious look on his face, "Are an ARTIST."
My childhood toy that introduced me to pro wrestling was now validating me for what I do in the world of wrestling. It's one of the most meaningful experiences of not just my career, but my life. The Iron Sheik is The Real.
That's what I tried to bring to this painting, how much he means to me.
This print is made on demand and may take up to a week to be produced before shipping.