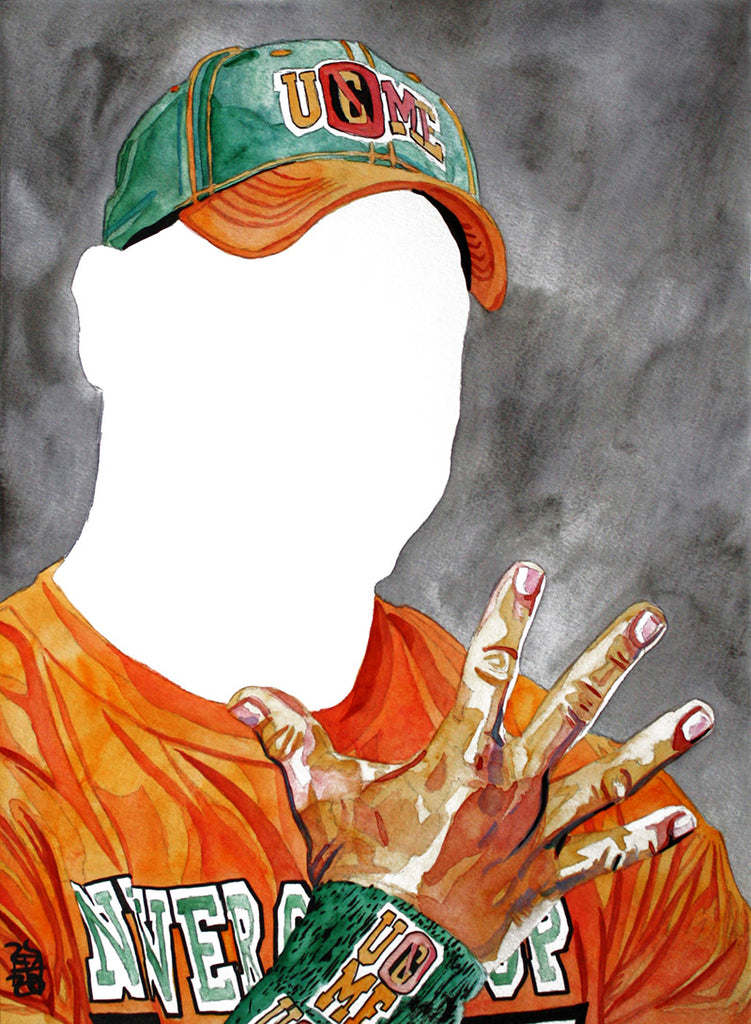 John Cena
Ink and watercolor on watercolor paper
Artwork by Rob Schamberger
Printed on 11" x 14" 130 pound uncoated cover stock, perfect for framing!
This John Cena painting is probably the most surreal thing I've ever painted. Sure, there's the initial surface joke that 'you can't see him' but it goes further than that. Surrealism, whether in visual art or writing or film or any sort of art is the juxtaposition of uncommon elements. For this one, I was heavily influenced by Rene Magritte's 'The Treachery of Images', famously known as 'the pipe painting.
It has an inscription that says "This is not a pipe" and that instantly makes the viewer say, "Yo, yeah it is. That's a got dang pipe. Man, I don't get art, this is dumb, of course that's a pipe."

But, you know, it's not a pipe.

It's a combination of lines, colors and shapes that tricks your brain into thinking of a pipe. It does enough to make your synapses fire and force you to think of a pipe. The treachery of images is that they're not the real things that they represent.

With this painting of John Cena, he's doing his trademark 'You can't see me' pose and his hat and wristband are straight up saying it. But that lack of the face is forcing you the viewer to fill in what you're not seeing. Even if I did a full-on representational painting of John, you're not actually seeing him but instead a way of arranging paint on paper to make you think of him. Here, I'm making you go that extra step and your memory of John is giving you a full experience of his face.

Treacherous images, indeed.
This print is made on demand and may take up to a week to be produced before shipping.