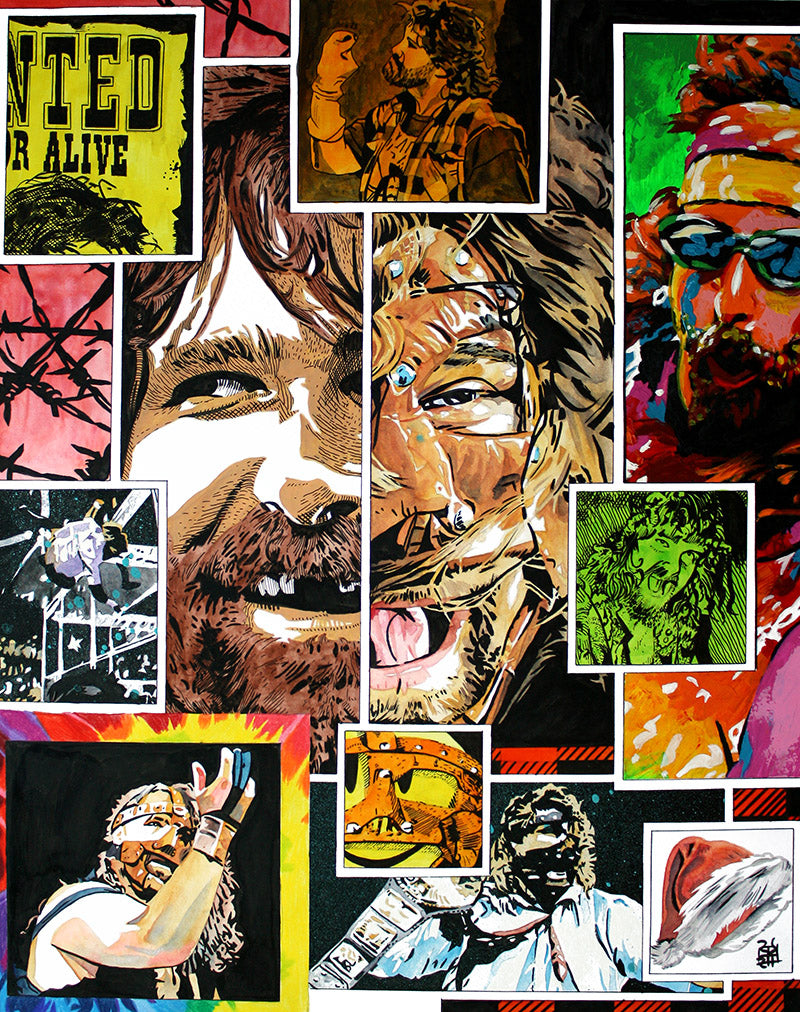 Mick Foley

Ink, watercolor, colored pencil, acrylic, and spray on bristol board
Artwork by Rob Schamberger
Printed on 11" x 14" 130 pound uncoated cover stock, perfect for framing!
The cool thing about someone who's had as storied a career as Mick Foley, who isn't afraid to answer the challenge of new ways of presenting his character, is that it gives me as an artist so much to work with. Especially on the 'Mosaic' approach where I'm putting all of these elements in as one piece. From Cactus Jack to Mankind to Dude Love to Mick Foley himself, I've got so much to work with.

Leaning into the idea of different approaches to his character, I've also implemented different mediums and techniques for each panel in the piece. There's his classic 'Wanted' shirt in the upper left corner done with acrylic and ink, framed by silhouetted barbed wire in front of a red sky. Then there's the Manking smiley face, done with liquid acrylic and hatching to give it a more cartoony look. The Christmas hat done in watercolor speaks to his work as Santa Claus. His first WWE Championship win as well as the infamous fall from the top of Hell in a Cell are done with ink, watercolor, spray paint and acrylic to create a look that resembles what it was like watching on an older TV. Framing an ink and watercolor Mankind looking at his mandible claw is some Dude Love-esque tie dye rendered in colored pencil (a first for my mosaic pieces!)  All of this comes together with the three main panels, each done in a different way but all so very Mick Foley. There's ink hatching over liquid acrylic for Cactus Jack, traditional ink and watercolor for Mankind, and acrylic applied with a palette knife for Dude Love, daddy!

I had a BLAST working on this and I hope working on it gives you a...wait for it...nice day!
This print is made on demand and may take up to a week to be produced before shipping.