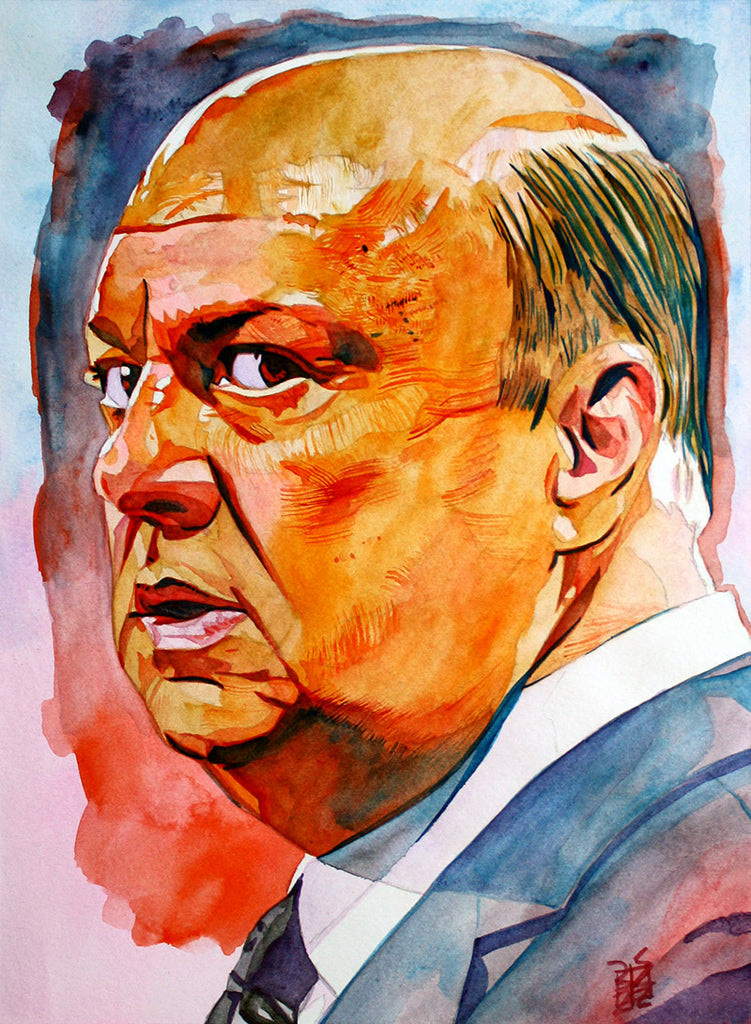 Paul Heyman: Consigliere

Watercolor on watercolor paper
Artwork by Rob Schamberger
Printed on 11" x 14" 130 pound uncoated cover stock, perfect for framing!
This Paul Heyman portrait is the best watercolor painting I've made to date. Paul had asked me a little while ago to do a new painting of him and I thought this would be a perfect opportunity to try out a new approach by using a filbert grainer brush to create a new level of texture and purposeful mark-making, taking this piece to another level. I also used a light magenta as my primer coat on this rather than my usual more representative choices and that's for sure something I'll be doing more of going further as I adore how it worked throughout all of the subsequent applications of paint.

Over my years as WWE's Artist in Residence I've had the great fortune to sit with Paul and talk about making a career as a creative person. I've had the opportunity to pick the brain of someone who's done just that at a high level for decades, and it's given me an incredible insight and an advantage going forward in my own professional life. Now, unfortunately I can't tell you what I've learned from Mr. Heyman. Would the ECW wrestlers have called up WCW and told them what they learned under Paul's tutelage? Would Brock Lesnar tell Kurt Angle or John Cena what he was strategizing with Paul about? Would Roman Reigns blab to the locker room what Mr. Heyman was telling him in confidence, or would he continue to stack up his opponents and stay on top? That's why I can't tell you, either. The information is just that valuable.
This print is made on demand and may take up to a week to be produced before shipping.