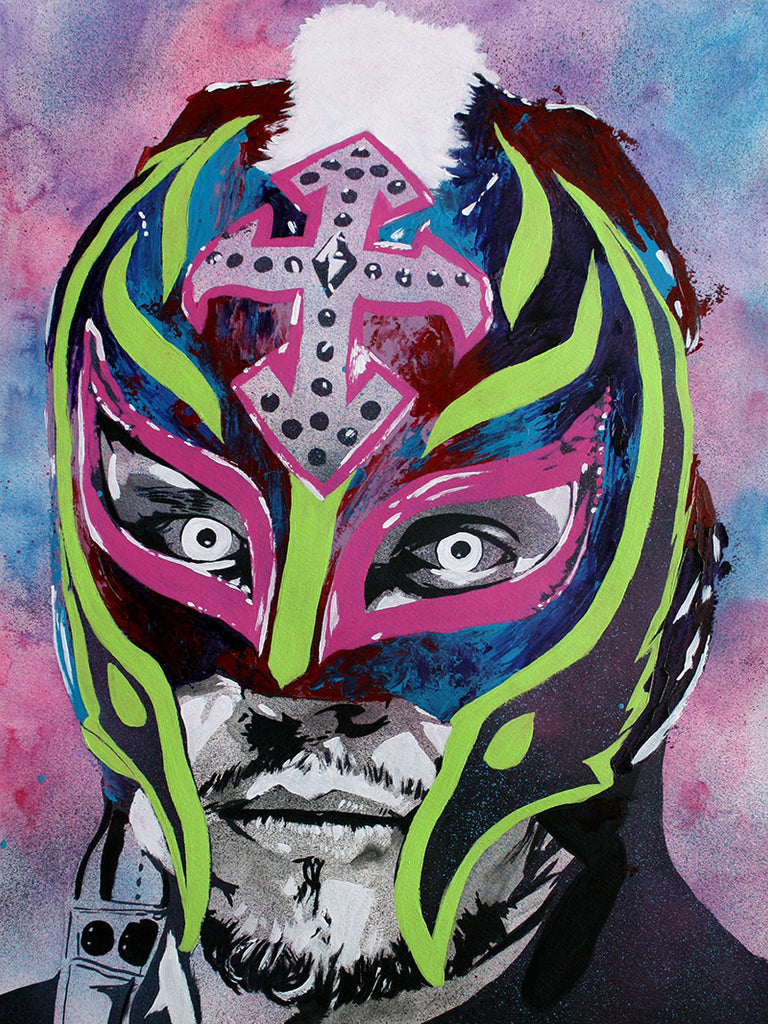 Rey Mysterio
Ink, spray paint, acrylic and watercolor on watercolor paper
Artwork by Rob Schamberger
Printed on 11" x 14" 130 pound uncoated cover stock, perfect for framing!
This is the best painting I've made so far. Listen, art is subjective, it's all about how it interacts with the brain of each person who views it. But I'm going to right now tell you why this is the best thing I've made and how.

First, there's a technical sophistication that I haven't been able to pull off up to now and I'd have a hell of a time trying to do again easily. I melded watercolor, ink, spray paint and applying acrylic with both palette knife and flat with a brush in a way where they're not competing with each other. Watercolor is really soft and acrylic is dense and bold and contrast with each other, so I was nervous that once I got to the acrylics that I'd blow it. Midwestern humility tells me that I'm not supposed to say that I nailed it, but damn it somehow I nailed it.

Somehow. Somehow I mixed all of my approaches into one cohesive painting.

Second, there's a story being told here with how this looks. Mysterio's face is in greytones, but the mask and background are in brilliant technicolor. He's Dorothy Gale, but transforms not only himself when he puts on the mask but the world around him through inspiration. And I'm here to say, I've worked with and had conversations with Oscar Gutierrez, and that guy has a presence about him and gets 100% of my respect. But the second he puts that mask on, it's like, "Oh snap, that's Rey Mysterio" I'm all of a sudden not in the real world backstage of a wrestling show but transported to that fictional, no, to that MYTHICAL backstage we see on TV where wrestlers are walking out to the ring.

That moment when they stop being a person portraying a character and instead BECOME the character. That happens the second Rey puts on his mask, and I feel I brought that gravity through with this painting.

Art is subjective and it means different things to each person who looks at it. When I look at this painting I see the best thing I've made to date and I see the challenge I now have ahead of me to hit this quality again and again.
This print is made on demand and may take up to a week to be produced before shipping.