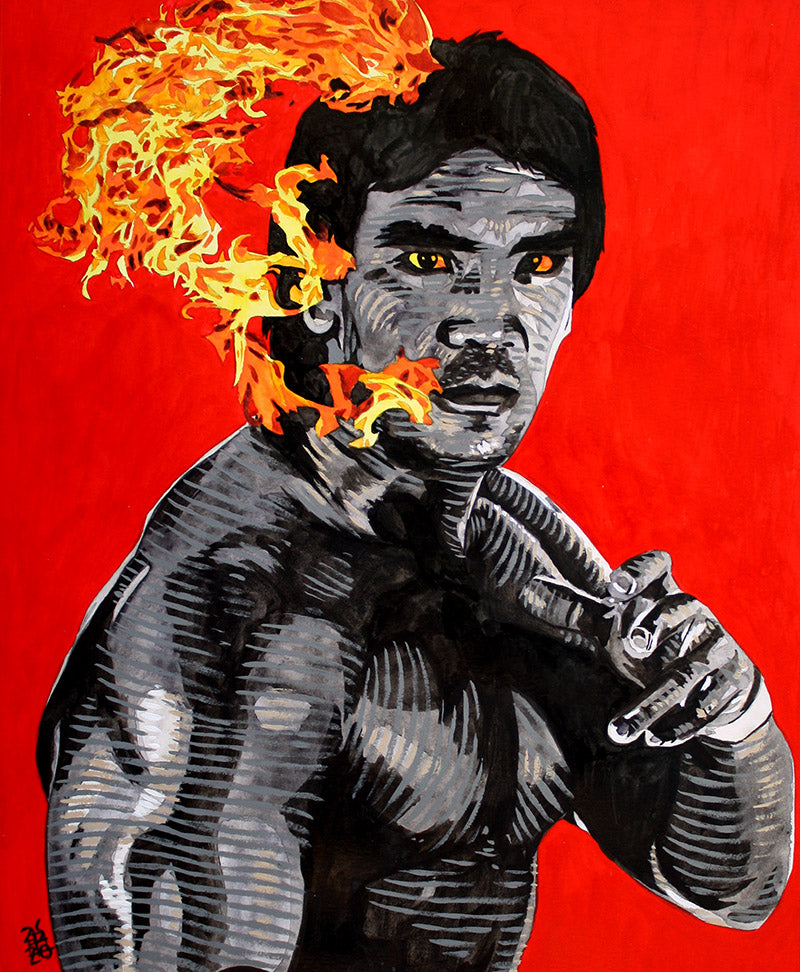 Ricky Steamboat
Ink, acrylic and watercolor on watercolor paper
Artwork by Rob Schamberger
Printed on 11" x 14" 130 pound uncoated cover stock, perfect for framing!
I wanted to do more by giving the appearance of doing less in this Ricky 'The Dragon' Steamboat piece. His breathing fire is so integral to the memories so many have of the Steamer, and I've explored it in a big way in the past, but thought I could really get it across stronger with just a wisp of flame.

So I stripped down the composition to a flat red background, Steamboat's figure in dark greytones, and then the flame rendered realistically along with its reflection in his eyes, perhaps saying it's coming from within him. I could have just done the body with watercolor but wanted to take it up another notch stylistically by adding some hatching with acrylic paint. 

Every piece that an artist makes is informed by every other thing they made up to that point, especially if they're paying attention and learning. Learning from what went right, what didn't, and what happened accidentally that can be applied on purpose the next time around. As well as building skill with technique through repetition, getting those rep's in. I can see that here, I can see all of the other paintings I used various techniques and approaches on, why they worked or didn't, and then applying all of that knowledge here.

Really damn happy with this painting here. Decades of work went into it.
This print is made on demand and may take up to a week to be produced before shipping.