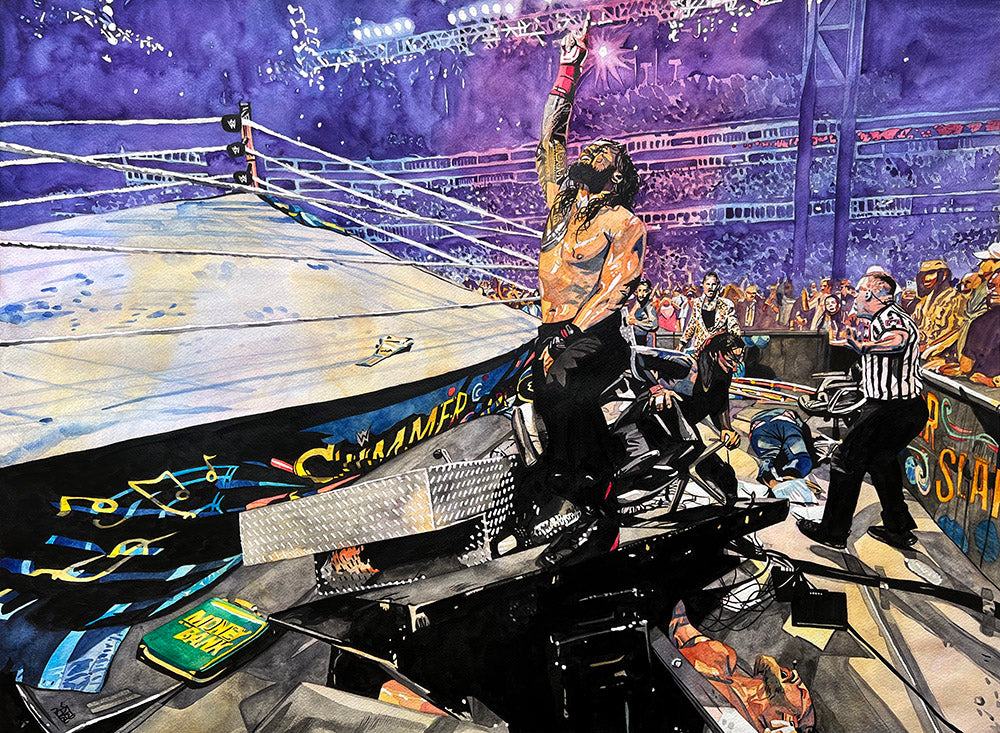 Roman Reigns: Wrestling Landscape
Ink and watercolor on watercolor paper

Artwork by Rob Schamberger
Printed on 14" x 11" 130 pound uncoated cover stock, perfect for framing!
Roman Reigns stands triumphant over Brock Lesnar, while Jimmy and Jey Uso heap rubble onto Brock as Corey Graves stands in shock beside an upturned wrestling ring and an unconscious Paul Heyman, and WWE Official Chad Patton tries desperately to make the carnage stop. It's an image evocative of St George standing over the slain dragon, but told again for our modern times at WWE SummerSlam 2022.
I painted the crowd and the overall stadium in watercolor, while the deep shadows inside the barricades are done using black ink to create a sense of two separate worlds, a sort of Venn Diagram where the factual and the fictional overlap. There was also a bit of magenta added to the background around Roman's figure to make him the clear focus of the composition.
I did my best to pay attention to every little detail and surface, like creating a different texture on the LED barricade versus the torn up floor mats or the canvas of the wrestling ring. I'm especially happy with the use of masking fluid on places like the referee's shirt or the texture on the ring steps to make them feel real.
I really put in the effort to create for you my best work possible, and I thank you again for giving me the opportunity to do so.
This print is made on demand and may take up to a week to be produced before shipping.