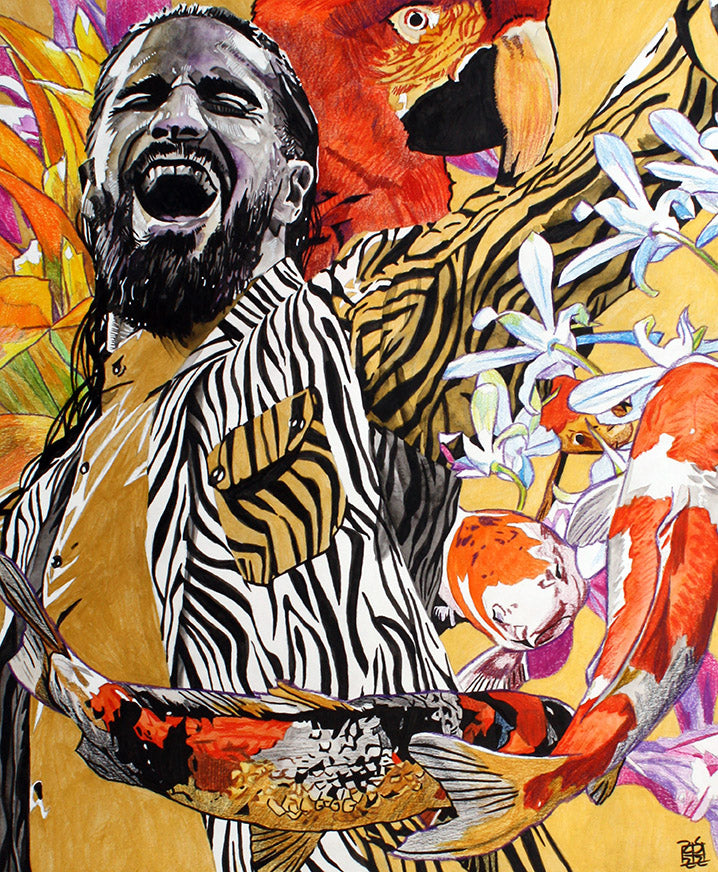 Seth Rollins: Over the Top

Ink, watercolor, colored pencil and acrylic on bristol board

Artwork by Rob Schamberger
Printed on 11" x 14" 130 pound uncoated cover stock, perfect for framing!
With Seth Freakin' Rollins being so over the top, so -extra- nowadays, I knew that for this new painting I needed to go wild myself. I thought, what ostentatious elements could I add to push this to the limit? And then I knew: Gold freakin' paint with tropical flora and fauna! It's ridiculous, right? The exact kind of things you'd expect to see in the patterns of his suits.

I recently had the pleasure to vacation on the Hawaiian island of Kauai and like any good tourist I took a ton of photographs of everything I saw, so the parrot, koi and flowers are all from that. Gold paint doesn't come across the same in a photograph, but you can still see gradients in this shot as it reflects the light. The flora and freakin' fauna were done with a mix of watercolor and colored pencil to set them apart from the flat background and Rollins' figure. I then used a touch of watercolor for his face, but with a muted palette to really frame him with everything else happening to bring the composition together.

Not freakin' bad!
This print is made on demand and may take up to a week to be produced before shipping.