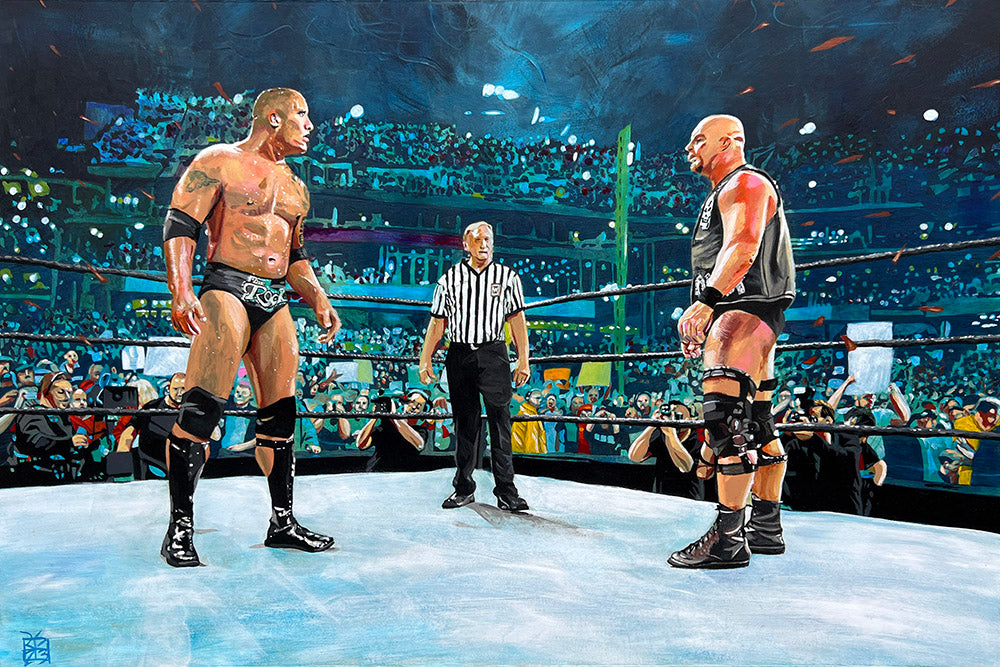 The Rock vs Stone Cold Steve Austin: Wrestling Landscape
Acrylic on Bristol Board

Artwork by Rob Schamberger
Printed on 14" x 11" 130 pound uncoated cover stock, perfect for framing!
The Rock. Stone Cold Steve Austin. Wrestling Landscape. This is a very important painting to me on several levels. Obviously, Rock and Austin are two of the biggest stars that WWE has ever seen and the times that they squared off in the squared circle are properly monumental. Because of that, because of how they pushed themselves and one another, I wanted to push myself as an artist on this piece.
I felt like my Wrestling Landscape paintings weren't as expressive as I wanted them to be, and through learning about the process of glazing with acrylic paints I could get closer to that expressiveness. Whether it be the abstract nature of the top of the painting, the hazy crowd, the perception of depth that creates, the way that the ring canvas looks properly textural, and the way Rock and Austin are popping right off the composition by simply standing there, it all comes together and takes my work up another level.
Personally and emotionally, I started this painting while our cat Korma was still with us, working on it during my last day with him, and later becoming the first painting I finished with our new kitten Tikka by my side. It creates a sense of continuity in my life and is beautiful in a way that will forever elevate it in my eyes and in my heart.
This print is made on demand and may take up to a week to be produced before shipping.