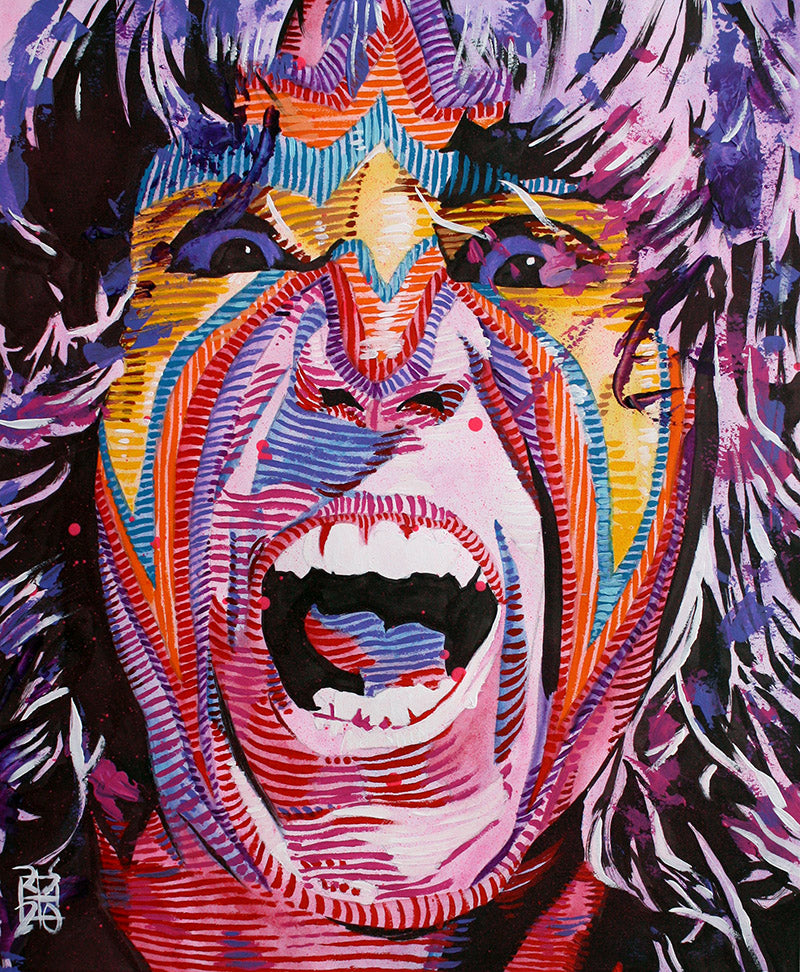 Ultimate Warrior
Ink, spray, acrylic, dye and watercolor on watercolor paper
Artwork by Rob Schamberger
Printed on 11" x 14" 130 pound uncoated cover stock, perfect for framing!
I wanted to experiment more with hatching using acrylic and I figured if I can't use it effectively with the Ultimate Warrior then what am I even doing? This time I played around more with technique to get different effects with texture. So I first put down watercolor and ink and then spritzed some spray paint for said texture.

After letting it dry and air out I hatched with acrylic paint for the skin and the face paint. Once I was done with that I felt like continuing the hatching with the air would be too much and make the composition too busy and lacking focus. So I opted to instead use a palette knife, giving the painting a whole different energy and one that fits perfectly with Warrior. I finished it off with white acrylic to bring the whole thing together and I gotta say it exceeded all expectations.

What I like the most is that of the pieces I've done so far with hatching I feel I was able to evolve the approach into something new (for me, at least). I can already see new ways to push the technique even further. THAT is what keeps me excited as an artist.
This print is made on demand and may take up to a week to be produced before shipping.