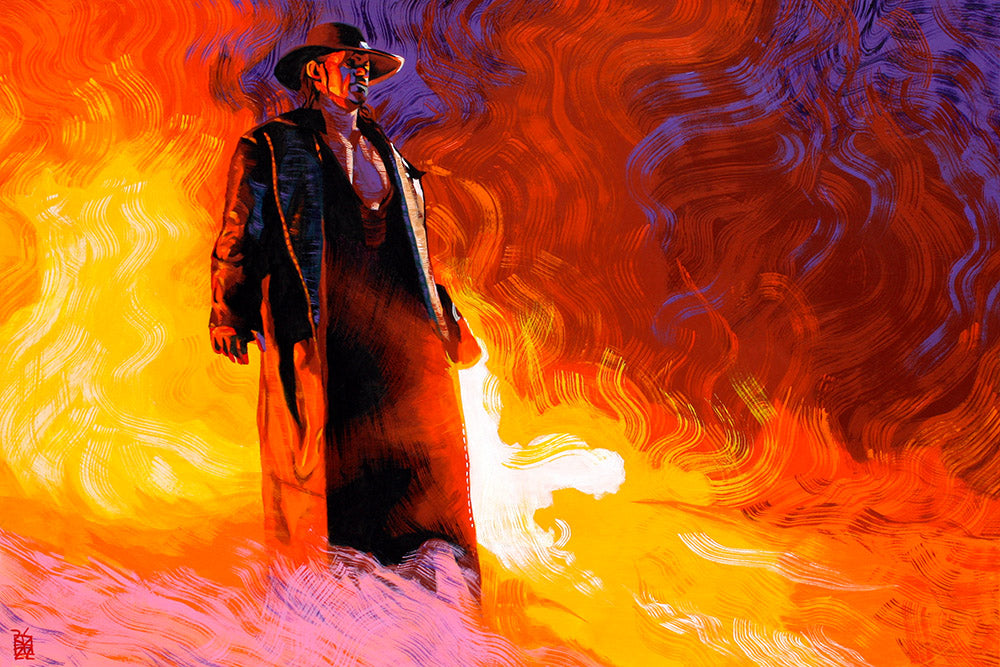 Undertaker: Hell Riding With Him

Acrylic on illustration board

Artwork by Rob Schamberger
Printed on 14" x 11" 130 pound uncoated cover stock, perfect for framing!
WWE asked me to make a "bad-ass painting of The Undertaker" (that was the actual request!) at WrestleMania 38 Axxess and I was more than ready for the challenge. I thought I'd do something different this time around, doing a fire-filled epic depiction of one of his entrances, this one from WM25. I found a nice big 30" x 20" piece of illustration board to give me a nice wide epic space to get the atmosphere across as the Dead Man makes his way down the ramp.

I used a lot of techniques and tools I've picked up lately in my other acrylic paintings for this piece, feeling this was a big test for how far I've come and also something that would get across the gravity of Undertaker's WWE Hall of Fame induction. I'm happy with the whole painting, but particularly the 'lens-flare' effect across his coat from the bright back-lighting. As an artist that was where I personally got jazzed with it. A friend also pointed out to me as I was working on it that it's not the color scheme one would expect from an Undertaker entrance, which I think gives it an extra unique bit of power.

This print is made on demand and may take up to a week to be produced before shipping.