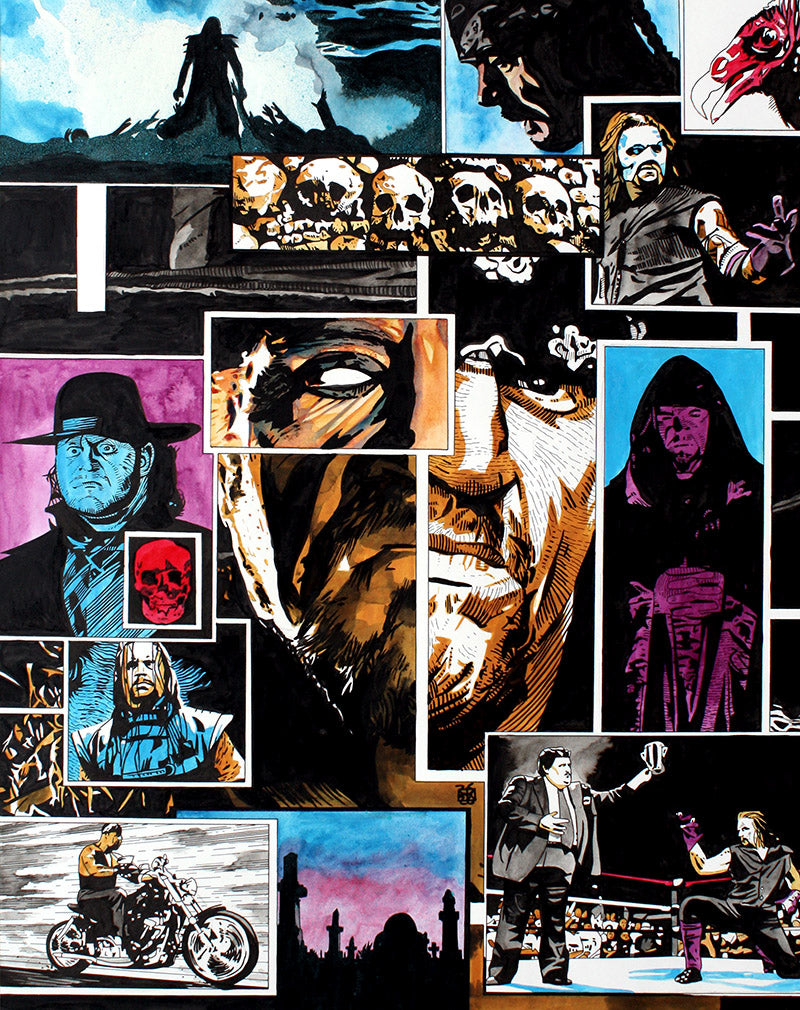 The Undertaker
Ink, acrylic, spray paint and watercolor on bristol board
Artwork by Rob Schamberger
Printed on 11" x 14" 130 pound uncoated cover stock, perfect for framing!
It's impossible to put all of The Undertaker's career moments in one piece, to even put all of his looks would be disjointed and lacking cohesion. But to present the feeling of his storied career, to give enough to set the viewer's mind in motion, that's what this painting is doing.
I used the 'mosaic' approach I've done with recent pieces, feeling that would be the right way in as well as the perfect subject matter for it. The big moments of his early look, the biker days, the Ministry of Darkness era, the scale of his WrestleMania entrances, even his final fight at the Boneyard. Those moments, along with mood elements like skulls, a graveyard and the vulture that once accompanied him to the ring to really seal the deal on that Undertaker feeling.
There were a lot of other people I considered putting into the piece, people Undertaker had memorable moments with, but I opted to only include Paul Bearer who was so integral to the character's story over its run, even appearing as an ethereal hologram during 'Taker's final farewell.
I used different mediums to create different feelings for each segment of the mosaic, each 'tile' if you will, yet all working together to make a cohesive composition. Ink, watercolor, acrylic, and for the first time with my mosaics: Spray paint! It was an interesting challenge to mask off everything except the tiles getting the spray and making that work, knowing that if it didn't I'd have to start all over.
I used traditional brush and ink, but also technical pens for a lot of the illustrative approaches throughout, and mixing them with the other mediums to rein it all in. I'm particularly happy with the grey watercolor in the background of the speeding motorcycle portion and how it works with the speed lines.
A storied career can't be contained in one image, but the feelings and the memories CAN be ignited, letting the viewer live them all over again.
This print is made on demand and may take up to a week to be produced before shipping.